This story was originally produced for West Virginia Public Broadcasting. 
Each summer, Augusta Heritage Center of Davis & Elkins College hosts five weeks of traditional music and arts workshops. Each week has a different theme and this week is all about Bluegrass music. This summer over 140 people came from across the country to study with bluegrass masters.
A Bluegrass History
When Bob Turbanic first took a job as a teacher at Wheeling Park High School in 1993, he never imagined that his interest in Bluegrass would take him and his students to countless festivals—including one in Japan—and to Augusta every summer.
Turbanic first became interested in Bluegrass because of the Wheeling Jamboree. The Wheeling Jamboree is a live radio program that has aired on Saturday nights since 1933 and is one of the oldest radio shows in the country. Turbanic remembers listening to the Wheeling Jamboree as a kid and was greatly impacted by what he heard.
"We didn't know what it was, but there was something in my ear that I love the sound of a banjo," he remembers.
When Turbanic realized how little his students knew about Bluegrass – a genre that Wheeling played a huge role in shaping – he decided to do something about it. So he formed the Bluegrass Band as an after school activity for students.
Coming to Augusta
In 1998 Turbanic brought his first group of students to Bluegrass Week at Augusta. It was an eye-opening experience for him and his students.
"We literally brought a group of students here and brought back transformed students," said Turbanic.
Turbanic does whatever he can to make the trip to Augusta accessible for all of his students. Besides camping out to make the trip more affordable, his students take advantage of Augusta's Scholarship program.
"The scholarship program that young people have available to them here at Augusta has certainly helped many of our students." He adds that, "it's incredibly rewarding and humbling as a teacher to know that we have such a great resource here in West Virginia."
Turbanic feels strongly that by design Augusta provides a safe, meaningful, and quality learning experience for his students.
"For us to have a facility like Augusta, with its heritage, and the broad depth of musical talent that comes in year after year to teach these students—it's amazing."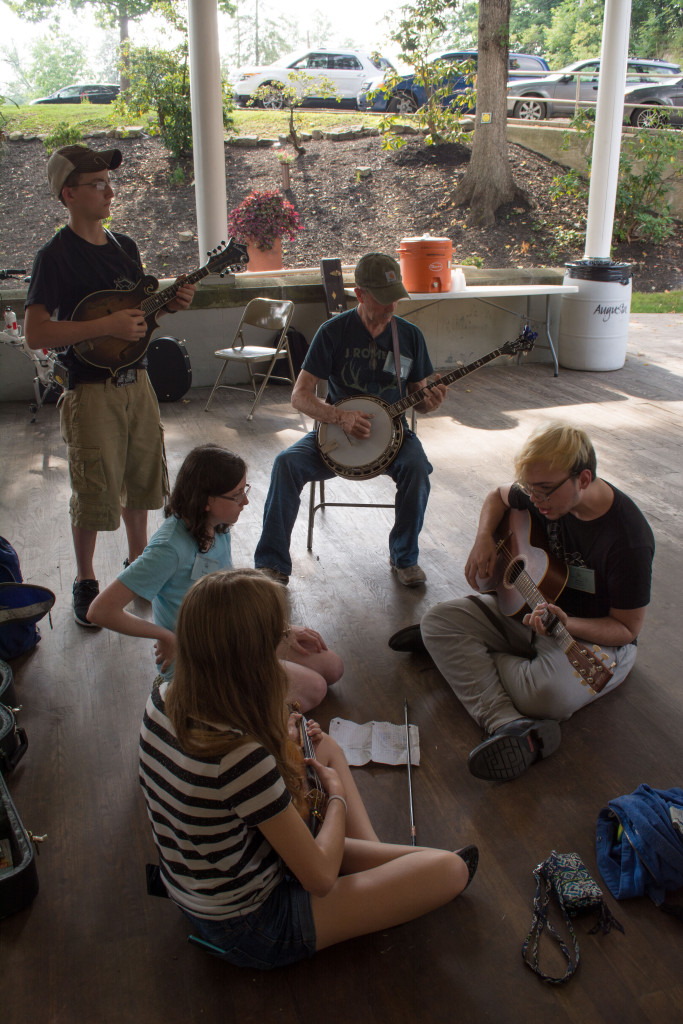 Forging Community
Turbanic's students report that one of the most enjoyable components of the program at Augusta is the community that invites all ages and skill levels to jam together.
First-time Augusta participant, AJ Templeton, who plays bass in the Wheeling Park High School Bluegrass Band, loves how she can jam with others.
"I could just walk up to people playing and they would just help me out if I don't know the song they're playing at the moment and I could get right into it automatically."
In jamming, students discover community, which is what Turbanic finds most valuable at Augusta. Within this community, music transcends generational gaps and he says it creates a special space where young and old share knowledge and build respect and understanding.
"These kids want to listen to what these older generations have to say because they have the knowledge that these young people want."
Turbanic said the older generations are enamored with the youth's desire to learn from them.
"It's just the most powerful thing you can envision."