After spending three years ranking the foods of the carnival I decided it was time to broaden my horizons and visit the food stands of the city park. The park's food alley was full of friendly people and delicious food, all worth giving a try. I followed the same protocol from the carnival in judging on taste, appearance, creativity, and atmosphere for a total of 40 points to determine the ranking. As always, I only requested a bite of their most popular dish and often ended up with multiple menu items to taste.The same gang from last night accompanied me, and we managed to eat our way though a total of seventeen food stands. I have divided the park's food into two categories: sweet and savory. Within those categories I have ranked the top three, and the rest come in as runners up in no particular order.
Beginning with the sweets, we have our runners up:
Cinnamon Roasted Nuts and Kettle Korn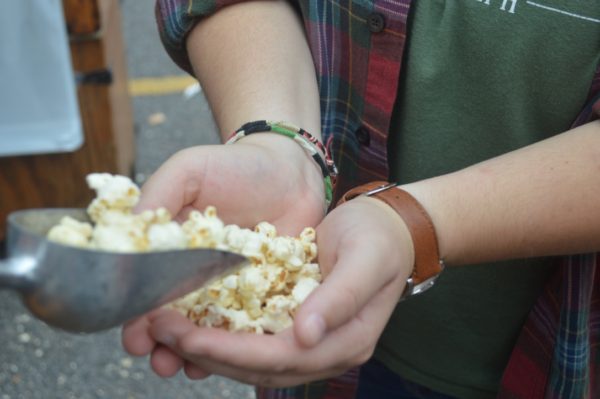 Cinnamon Roasted Nuts is home to a variety of German-style roasted nuts including almonds, pecans, and cashews. These nuts were sweet, crunchy, and delicious. The cashews earn my recommendation as they were certainly the best of the three. The kettle corn was both crisp and sweet with a salty undertone to make for an enjoyable kettle corn experience. Overall, both were delicious and the owners were very friendly.
Dippin' Dots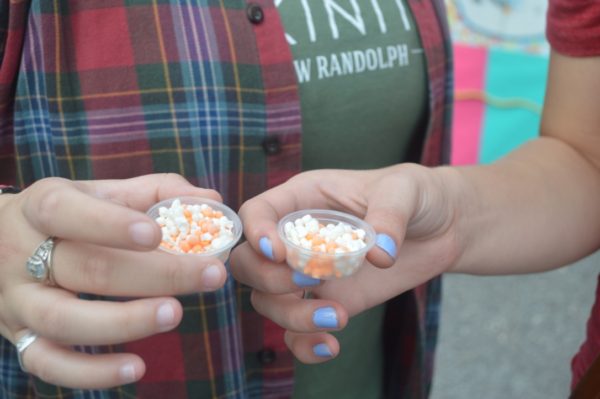 Here we tried their orange cream dots. They were quite tasty and super cold! It was a nice treat to complement a warm afternoon, and are a fun way to enjoy some ice cream. The staff were also super nice, for an added bonus to an already sweet treat.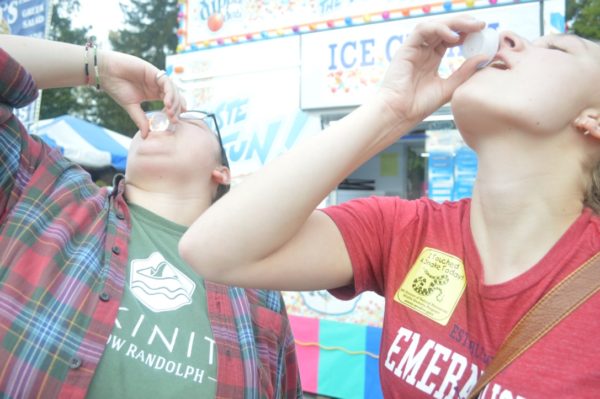 Absolutely Kettle Korn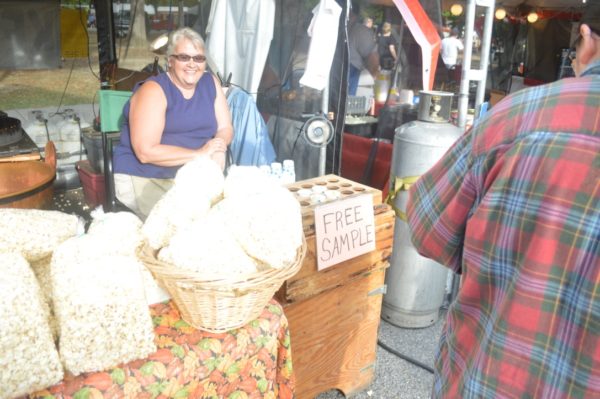 This kettle corn was salty, and slightly more savory than the average kettle corn. It had a bold primary flavor with sweet undertones that came through to compliment the savoriness of the kettle corn perfectly. It was not too crunchy and very delicious. Altogether, this is a solid kettle corn.
Funnel Cakes Stand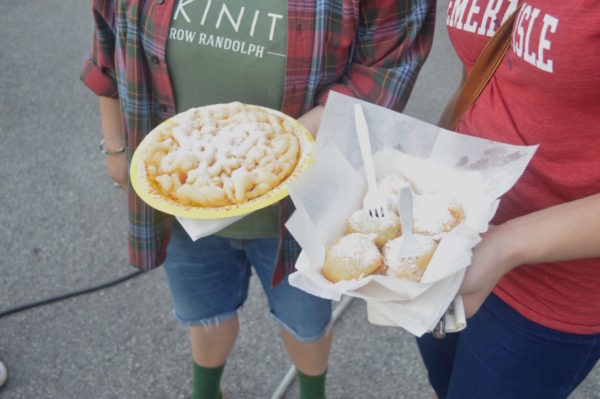 Here we received a fresh, classic funnel cake and some delicious deep fried Oreos. This was a very crispy funnel cake that had a really good crunch to it. The Oreos had the same firm crunch, and the two were coated in just the perfect amount of sugar to create two really good fried desserts.
For the top three deserts:
3. Ol' Shucks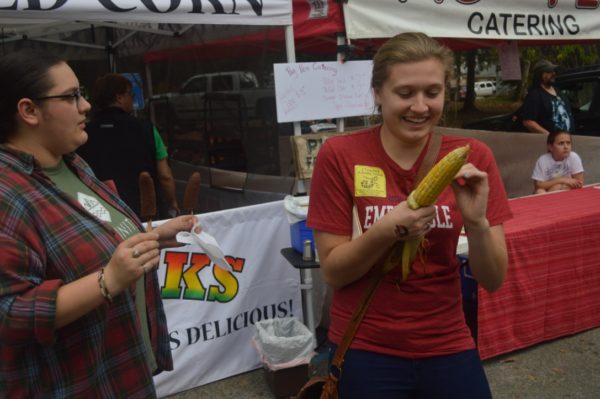 Ol' Shucks isn't just the home of roasted corn, they also have a mean chocolate dipped banana. The bananas were nice and cold with a chocolate coating that was just sweet enough to compliment the banana's natural sweetness well. This was a refreshingly delicious treat that I highly recommend before a walk through the park.
2. Emfinger Concessions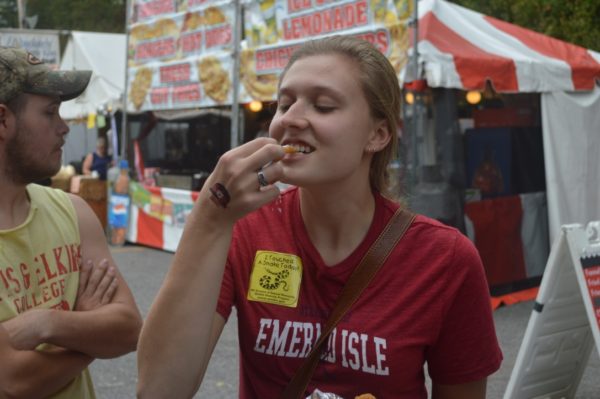 At Emfinger's you will find lots of delicious fried foods including their funnel cake fries. This fresh take on the classic funnel cake removes the struggle of pulling apart a full funnel cake and allows you to simply enjoy it in fry form. These crispy fries were all covered in a perfect coating of sugar that was entirely enjoyable.
1. Shaved Ice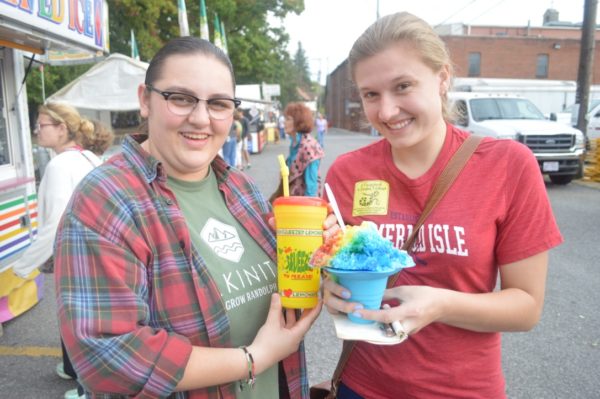 Here the lemonade is ice cold, sweet, and refreshing. We ended up going back and purchasing seconds on it because it was so delicious. They definitely have some of the best lemonade at the festival. Their rainbow shaved ice is unparalleled; it is perfectly shaved so that the ice does not freeze into a big block while eating it. It is a large serving of sweet ice that is simply perfect. Overall, a wonderful and refreshing treat.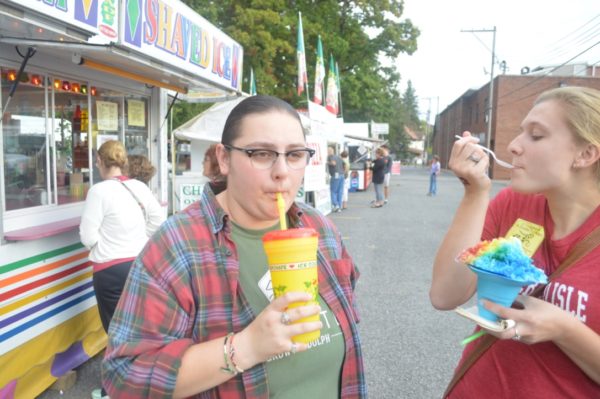 For our runners up in the savory category:
Courtyard Specialties (between Coral Reef and the Cinnamon Roasted Nuts and Kettle Korn)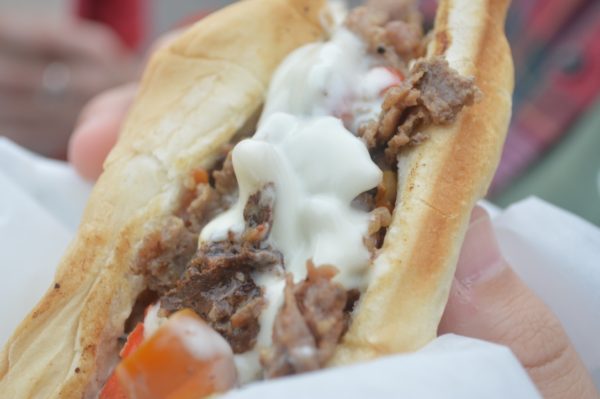 Courtyard offers a great Philly cheesesteak that is made right in front of you, and it is well worth the wait. The meat has a delightful smokey flavor, is well seasoned, and the sandwich is topped with a wonderfully gooey cheese sauce. It is also topped with peppers and onions that tie the whole sandwich together.
Nader's – Beside Dippin' Dots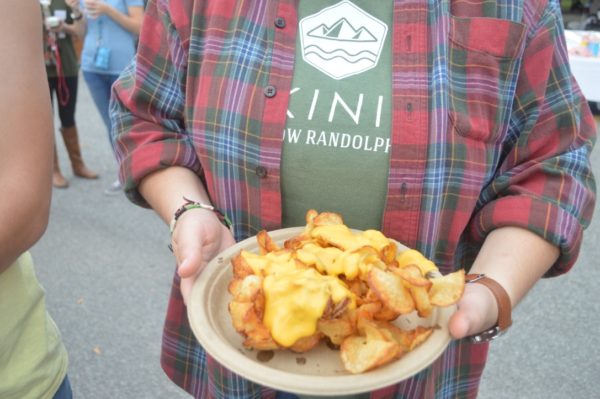 The chips at Nader's are really great, and it was super cool watching the cook shave the potato into the awaiting oil using a drill-based apparatus. They were crisp, fresh, and the cheese sauce on top was a nice addition.
Steak Express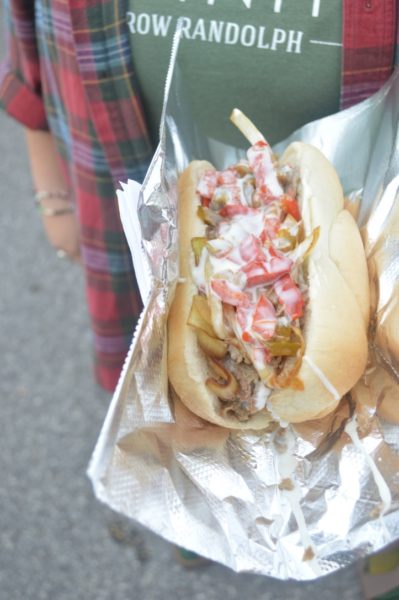 Here is another great cheesesteak. The peppers that top it are super sweet, the steak is nice and juicy, the cheese sauce was really groovy, and it was all enveloped in a fresh and fluffy bun. All around, this is a really excellent cheesesteak.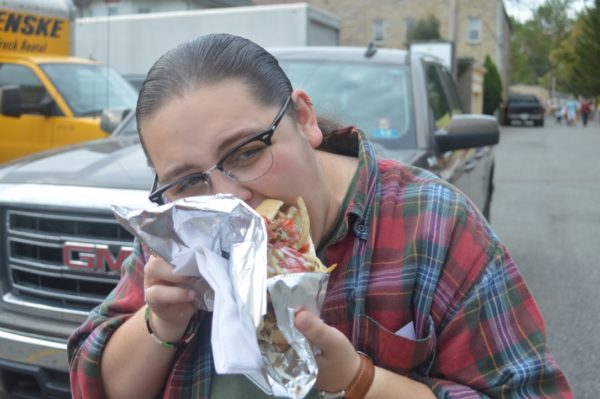 Marco's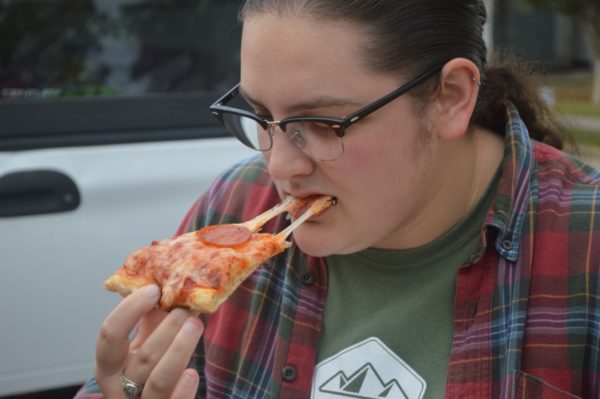 The pizza here is delicious. It was served to us hot out of the oven and features a great crust, gooey cheese, awesome flavor, and is one large size of pizza. Overall, it is really good pizza.
Courtyard Specialties (Between Absolutely Kettle Korn and Emfinger Concessions)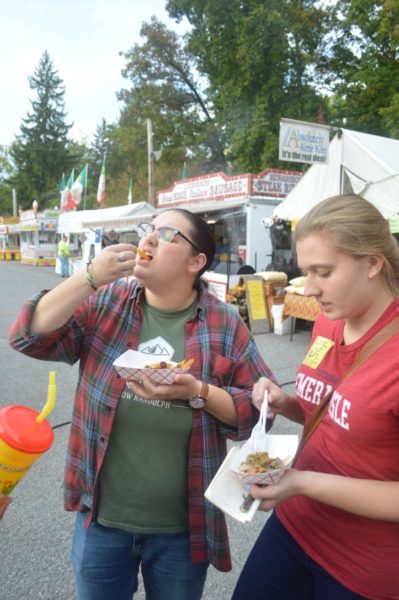 At Courtyard's second stand, the owner makes the sausage himself. The cheesesteaks feature sirloin steak. Here, we received a sampler of the meats, which were full of flavor and juicy, and the loaded fries. The fries are coated in cheese and delicious bacon chunks. Altogether, it makes for a great meal.
Emfinger Concessions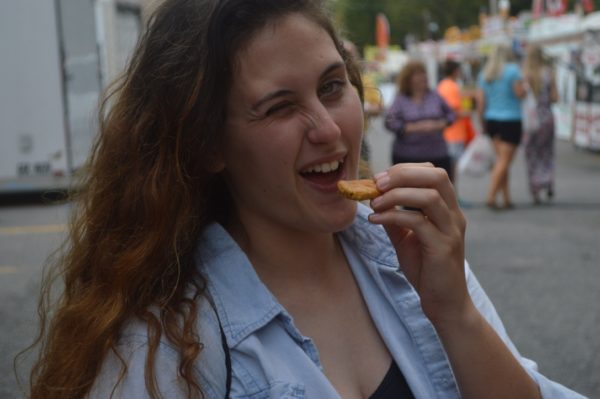 Emfinger's not only features awesome funnel cake fries, they also have deep fried pickles that are to die for. These are a little spicy with a crunchy outer layer that cradles the warm dill pickle within. Coming hot from the fryer, you know these tasty pickles are super fresh.
Gil's Pit Beef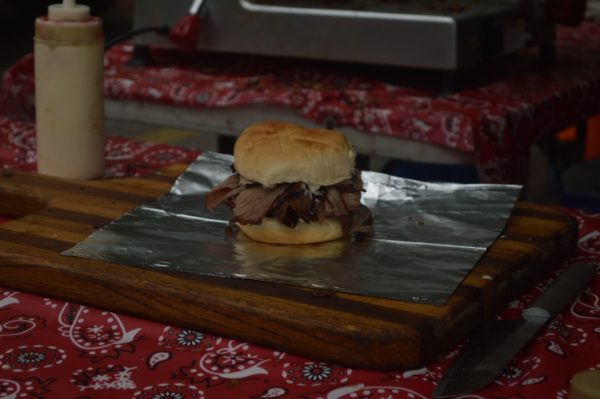 This group from Glenville serves up some mean barbecue. They make smoked beef, pork loin, and white meat turkey that is all flavorful and juicy. When we stopped by, the meat was shaved fresh for us to try a bite. They definitely make one massive, good sandwich.
Brah's Backyard BBQ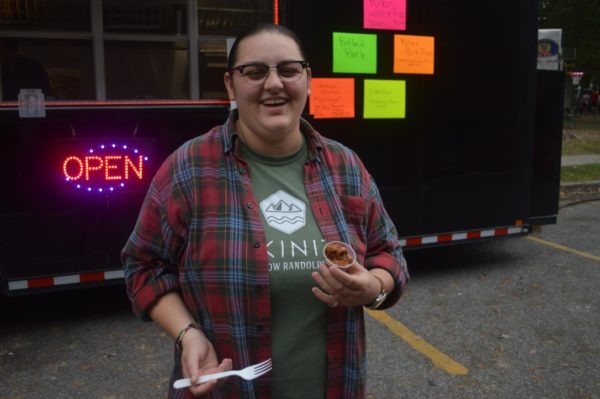 Their pulled pork was tender and smoky. Every inch of the meat was perfectly covered in barbecue sauce for a nice, saucy experience. It was juicy and overall really great.
Concessions World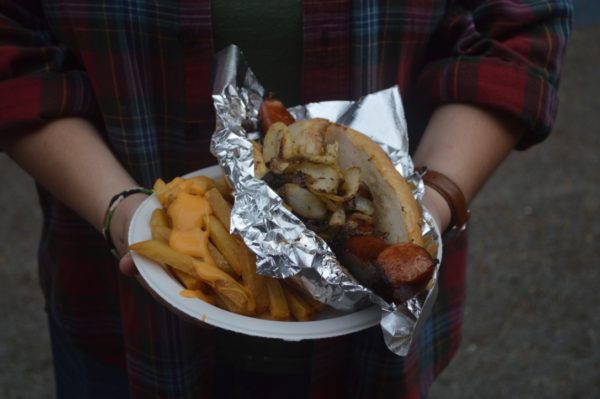 Concessions World featured a massive kielbasa sandwich topped with fried onions and peppers. This Polish sausage was hot and juicy and nestled in a really good bun. On the side were fresh fries that were coated in a gooey cheese sauce. This delicious meal is certainly worth trying.
Now, on to the top three savory dishes:
3. Pig Pen Catering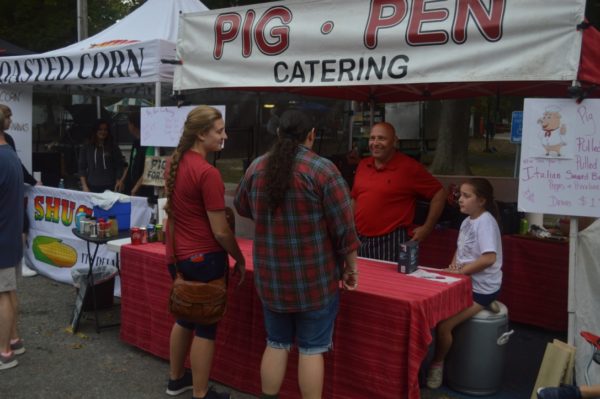 Our last stop of the day was Pig Pen's, and their Italian beef sandwich was truly awesome. It was a pretty hefty sandwich with good bread, good (gooey) cheese, massive peppers, and great meat. The meat itself was juicy and bursting at the seams with flavor that kept me coming back for more.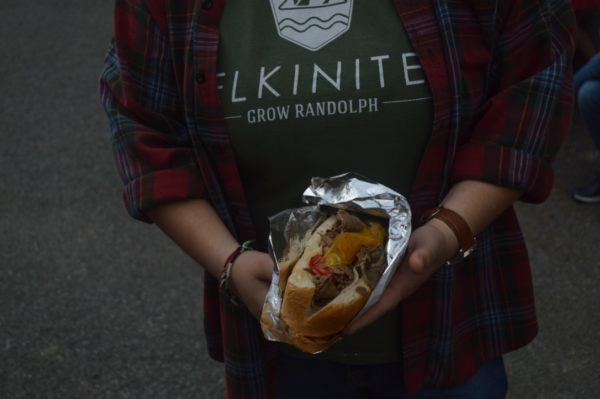 2. Coral Reef Deep Fried Seafood Emporium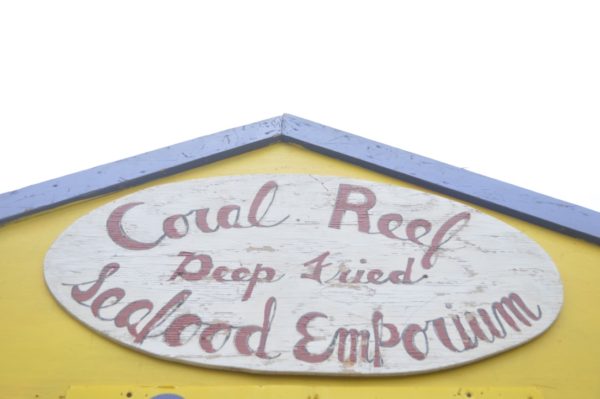 This unique stand has an incredible array of foods that stray from the average expected festival food. Alongside shrimp, chicken, and some beautiful onion rings they serve jambalaya. This jambalaya starts with a bed of shrimp topped with chicken and sausage mixed with some vegetables, and the final ingredient is their homemade garlic and herb sauce. That sauce (and the entire dish) was out of this world. For a unique festival food experience, check out Coral Reef.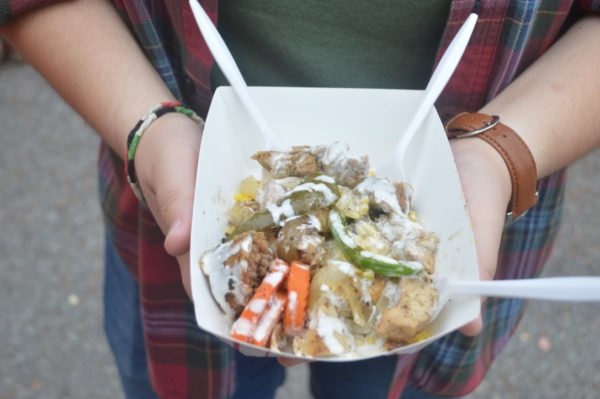 1. Ol' Shucks
Well shucks, it looks like this roasted sweet corn takes the cake. From the very first bite this corn was addictive. It was very sweet and juicy, and after a generous coating of butter the flavors mixed to create a sweet and savory experience. This was quite different from just about everything else at the park, and for $3 is a steal.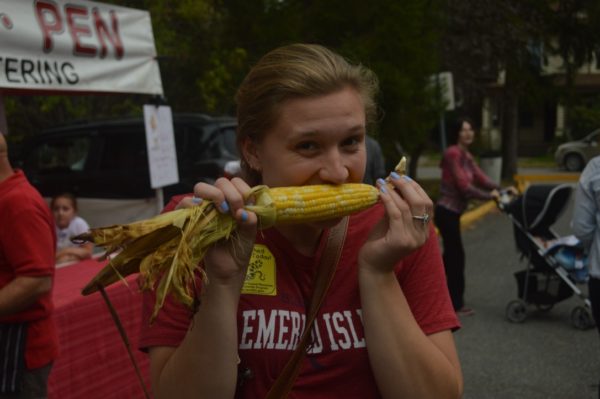 And that's that. After several hours going through seventeen individual food stands I have compiled the most comprehensive list of festival foods available. The park is full of delicious foods to explore, so be sure to work up an appetite, take the plunge, and try some (or all!) of the foods featured on this list. Feel free to also check out the other list of festival foods from the carnival, and try the best from both lists!