Guess what time it is, folks. That's right: Forest Festival time. For the third year in a row I took to the streets with some colleagues in order to find the best foods of the Mountain State Forest Festival. This year's group included many of last year's favorites along with a couple new ones to bring our grand total to thirteen food stands, all downtown and within walking distance of the carnival. While there is still a sweet and savory category, we decided to create a subcategory devoted to corndogs under savory. As is tradition we requested only a sample of the best and often received much more than we could handle. Every stand featured a friendly face that was ready to talk to us (most even recognizing us from years past!), and served us hot and delicious food that was to die for. Again, we judged using the same ten point scale that featured taste, appearance, creativity, and overall atmosphere of the stand for a grand total of 40 points. Again, the stands all scored very close to one another. Rankings aside, all of the food stands found on this list are certainly worth visiting because they are home to delicious food, friendly people, and a good time.
All photos by Ethan Edinger.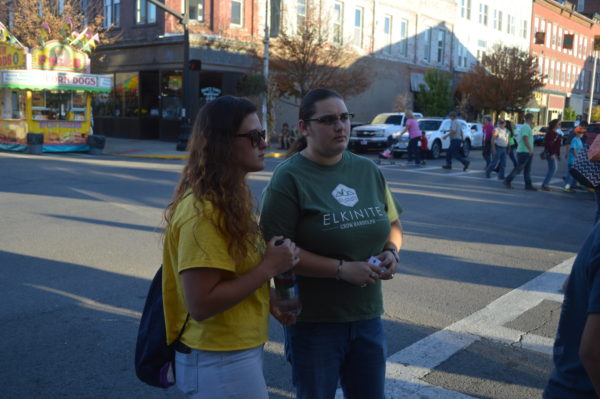 Starting with the sweets, we have:
3. Funnel Cake Stand – Across from Kiwanis on 3rd Street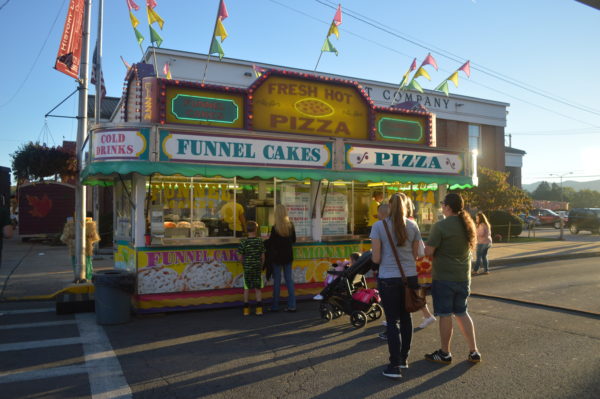 Here we had a lovely chocolate drizzled funnel cake that was perfectly crunchy on the outside while remaining chewy on the inside. The layer of chocolate sauce was a treat that certainly added to the quality of the dish and did not overpower the cake, making for an overall enjoyable desert.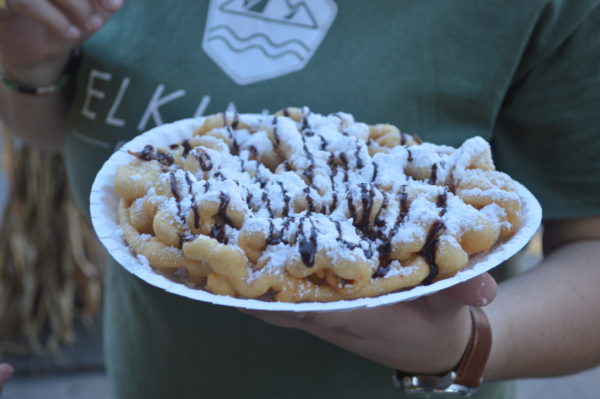 2. Monie's Sweet Things – 3rd Street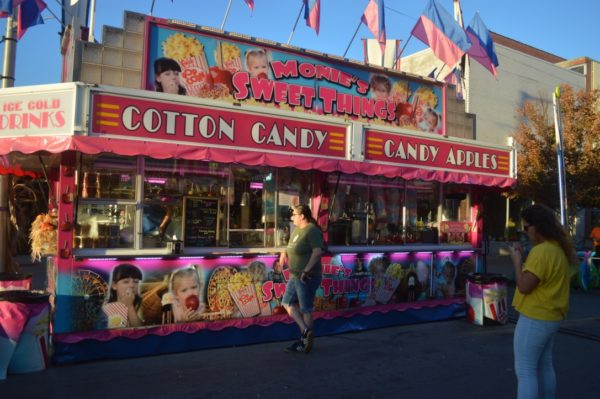 This year, Monie's made a caramel dipped apple covered in M&M's fresh in front of us. The apple was fresh, the caramel still warm, and the chocolate complimented the other flavors well. I never thought I would enjoy apple and chocolate, but this has convinced me otherwise. The apple was a lovely and crisp desert, and certainly worth trying!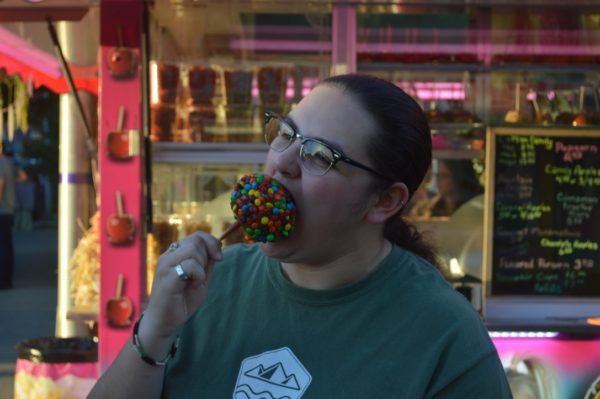 1. Fawcett's Funnel Cakes – Corner of 4th and Davis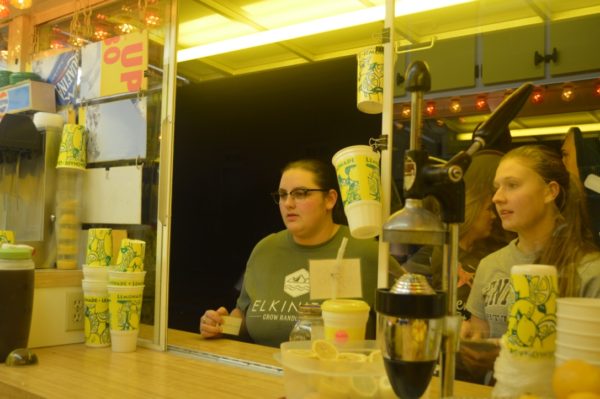 Again, our desert champions are Fawcett's Funnel Cakes. This year they served up a fresh funnel cake that was half chocolate and half caramel, deep-fried Oreos, and a cup of lemonade. The funnel cake featured a perfect crunch that was complimented by the chocolate and caramel sauces. For the Oreos they were perfectly moist and not-too-sweet, creating an excellent deep fried experience. Finally, the lemonade was quite good, sweet, and certainly a festival classic. Fawcett's earned Meaghan Eyler's "life-altering desert" award.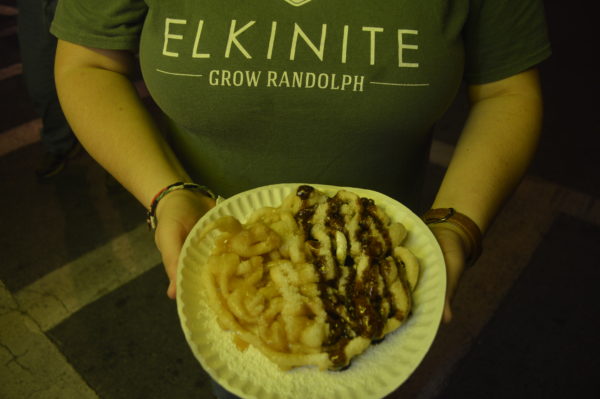 Also deserving mention in the sweets category, we have:
Zul's Frozen Lemonade – Beside the Train Depot
Zul's is a West Virginia classic. Here we have a semi-sweet frozen lemonade that comes in many flavors, including the classic lemonade, and is a delicious treat to cool down after a warm day. This year, the proceeds benefit the Elkins High School baseball team. On Friday Zul's can be found by Broughton's Sports, and they will be present during the band competition at Wimer Stadium.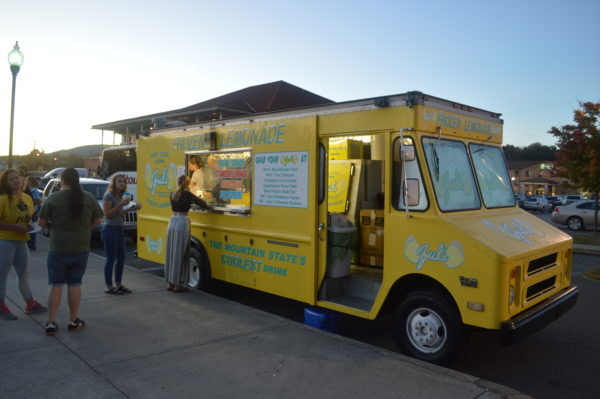 Now let's move on to the savory category. I'll start this one off with the new corndog category.
Because the corndogs were all extraordinary close in the rankings, we chose to rank the top two and then honorable mention.
For honorable mention in corndogs:
Kiwanis – 3rd Street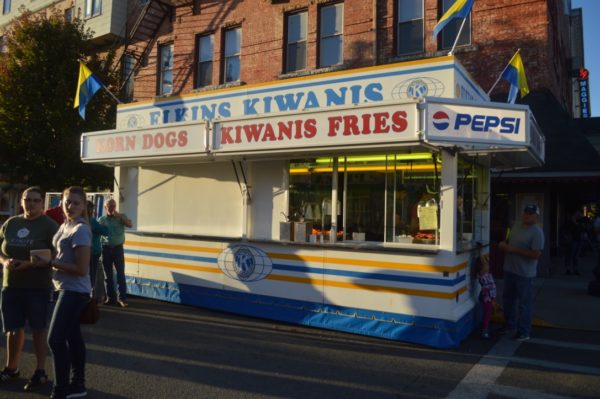 The Kiwanis corndog: truly an Elkins classic. A crispy, golden corndog that features a wonderful semi-sweet breading certainly deserves the reputation it has built. Check it out on 3rd Street and judge for yourself!
Mr. K's – 3rd Street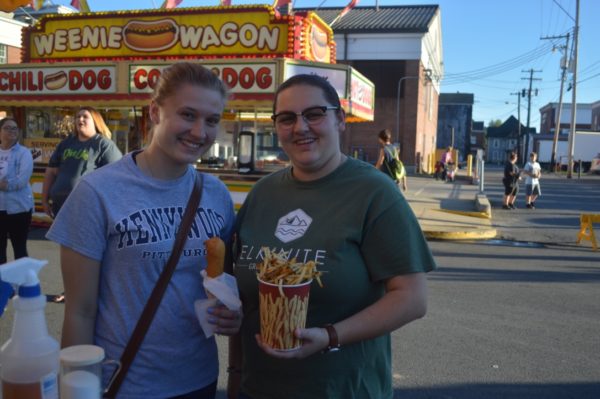 Mr. K's corndog was a wonderful hand-dipped 'dog that featured a thick coating of a sweet yet savory batter that complimented the hotdog within perfectly. Overall, a solid corndog.
For our top two corndogs:
2. Richardson's – Behind Lynn's
This corndog featured another wonderful breading, but it definitely featured the best hotdog of all of the 'dogs sampled. Again, sweet and savory came together for a great corndog experience.
1. Weenie Wagon – 3rd Street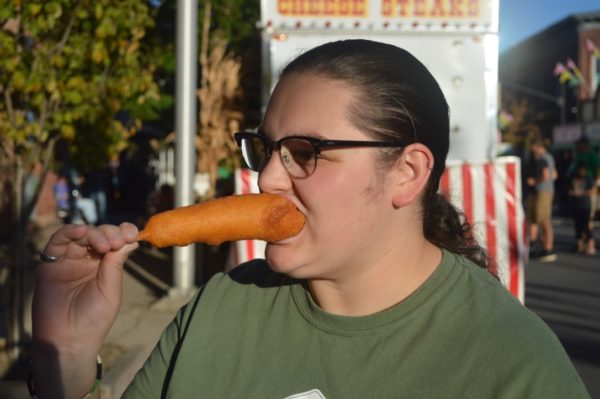 The Weenie Wagon is certainly a deserving champion. This is a massive corndog that you know has been hand dipped the second it is handed to you. Hot and fresh, it is simply a wonderful corndog that everyone should give a try.
Now, on to the rest of the savory foods:
5. Mr. K's – 3rd Street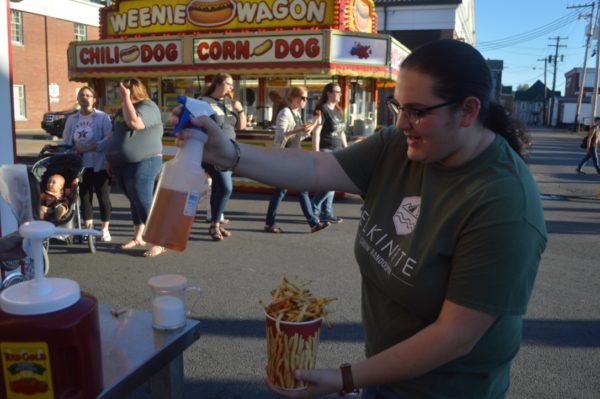 Mr. K's makes the list again with their incredible shoestring fries which are both crispy and delicious. Adding the vinaigrette simply increases the already wonderful flavor and makes for a pretty awesome french fry. Definitely a worthwhile experience.
4. Richardson's – Behind Lynn's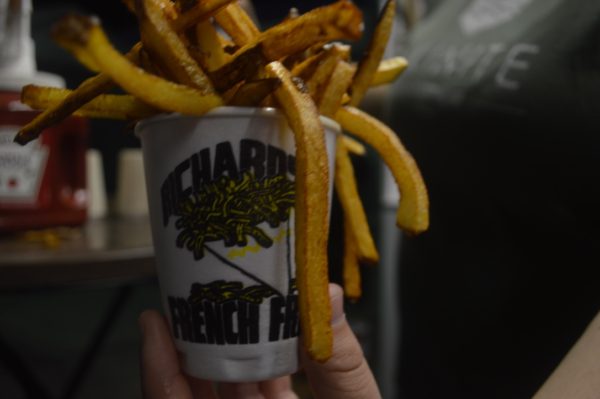 Richardson's also makes the list again with their fries. These were a little thicker than the shoestrings. They were a softer fry with a light salt coating. When adding their vinaigrette to the mix, these tasty fries just got even better!
3. Shirley's Steak and Sausage – Behind Lynn's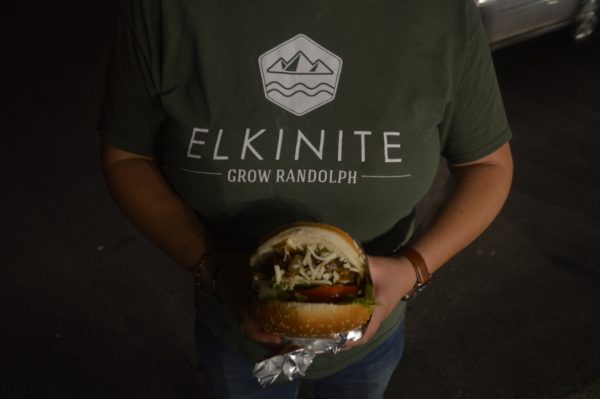 The Shirley burger comes in third this year. Though I'm not usually a fan of onions or tomatoes, on the Shirley burger it just all seems to come together to truly make the sandwich a worthwhile meal. This massive burger combines the best of the cheesesteak and cheeseburger in order to make a unique and delicious sandwich.
2. Aumer's Steak and Sausage – 3rd Street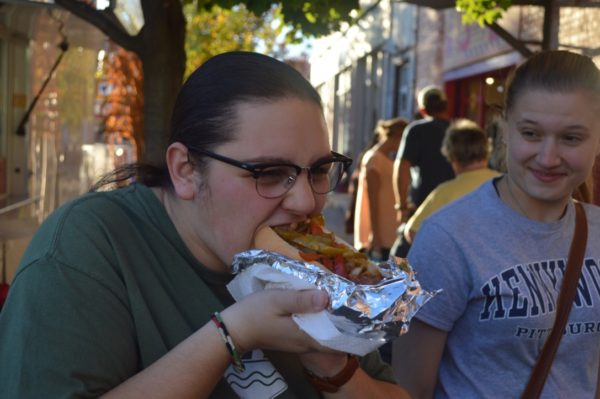 Their Italian sausage is truly amazing. The slightly spicy sausage is perfectly complimented by the fresh bun and slightly sweet peppers to top it off. After taking the first bite it was almost impossible to stop eating. This sandwich (and their cheesesteak) is 100% worth checking out!
1. Paps Lothes BBQ – Beside Intermountain Office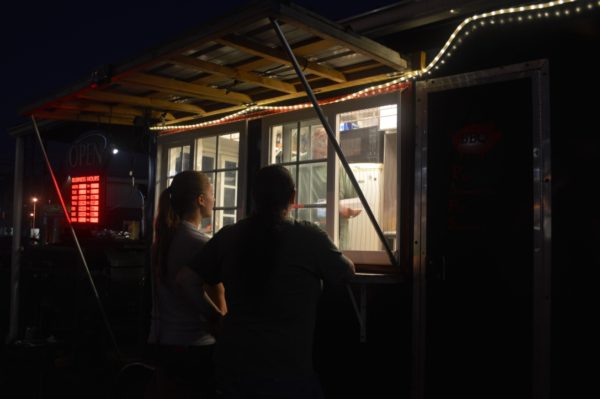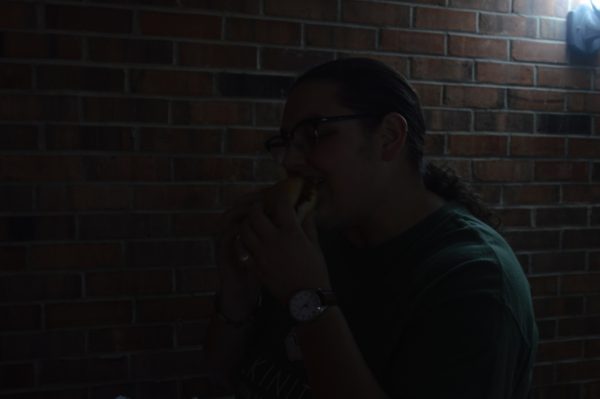 Awesome is the only word I can use to describe Paps' barbecue. The sweet pork barbecue on the nachos is rivaled by their pepper sauce to create a battle of sensations within your mouth. While we were waiting for our food, a man in line behind us began raving about how great the nachos they were making were and he was not wrong. On the pork barbecue sandwich the meat was sweet, smokey, and juicy, making for one tasty sandwich. This year Paps' not only wins the best sauce award, they win first place for their great barbecue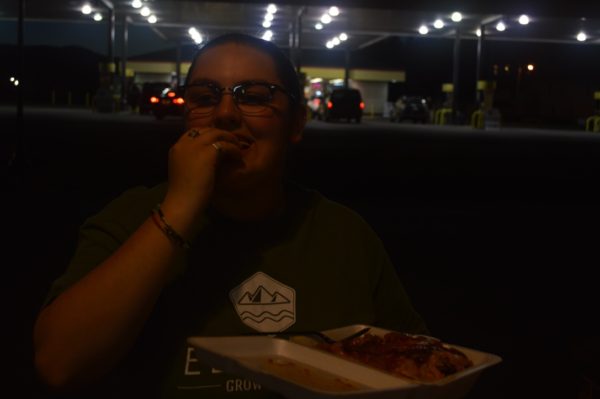 For a third year, yet again, here are the top foods of the Forest Festival. The folks that run these certainly work hard to create such delicious food, and they are all great stands that have been coming to the Festival for years now. Since last year's challenge was to try all eleven in one night, it is only natural that this year's is to try all thirteen! Be sure to at least make it to one of these before the Festival leaves and you have to wait another year to experience this awesome food!
As an added bonus, keep checking back to see what might be coming next!