Adorned in bright colors and glowing accessories, nearly 200 runners and walkers of all ages gathered Saturday evening, August 29, for the Sunset Chase 5K Fun Run.  Now in its second year, this community wide event, hosted by the Elkins-Randolph County Chamber of Commerce, not only generated friendly competition but promoted a healthier Elkins.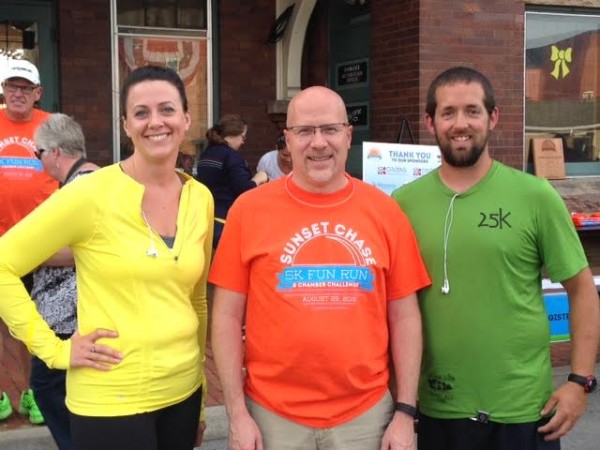 The mostly flat course, started at the Elkins Train Depot, traveled onto Wilson Street, looped around Glendale and Riverbend Parks, with the final mile running through the industrial park and back onto Davis Avenue, for a quick sprint finish, ending by Davis Trust Company.  Along the way, nearly 50 D&E student athletes and many others cheered on racers, passed out water, and provided participants with glow sticks and necklaces to keep spirits high as the sun started dip in the sky.  The finish line welcomed runners with great music, post-race snacks, and a rainbow of colorfully dressed volunteers.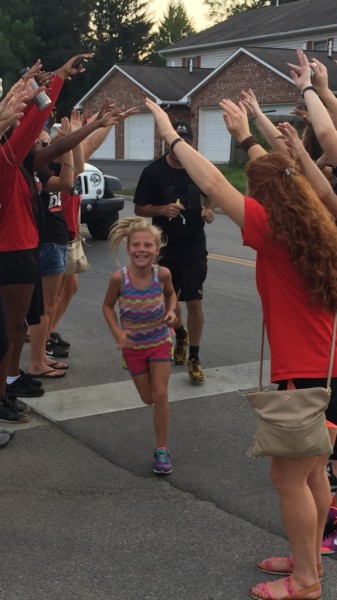 Participants in this year's run were encouraged to run individually or as a team of four or more.  Many teams wore matching uniforms with the hopes of capturing a prize for team spirit.  Other prizes were also awarded.  Winners included Fastest Individual: Austen Jenner (Davis & Elkins College), Best Spirit – Individual: Kelly Cooper, Best Spirit – Team of 4: Davis & Elkins Cross Country Team, and Chamber Challenge Champion: Appalachian Animal Hospital.  Citizens Bank of WV had the largest number of participants from one business with 38 employees running or walking.  In the true spirit of the community challenge, Citizens Bank of WV also performed a random act of kindness by sponsoring the D&E cross country team.
New this year, Middle School and High School students running their first 5K were eligible to win a cash prize!
The Elkins-Randolph County Chamber of Commerce intends for the Sunset Chase 5K Fun Run to be an annual event in order to promote healthy lifestyles.  A unique feature provided to participants included free training sessions with Seven Performance during the weeks leading up to the race.  For the novice runner, this event is a perfect step into racing.  The welcoming atmosphere, community support, and un-timed course takes away the anxiety that goes along with traditional road races and just leaves the fun!
More photos from this year's race, and the 2016 race date, will be available on the Elkins-Randolph County Chamber of Commerce's Facebook page and website.
The mission of the Elkins-Randolph County Chamber of Commerce is to support the development of business opportunities, represent the common interests of business, and preserve a quality of life for businesses, employees, and citizens that fosters the local traditions of a friendly, progressive and volunteering community.  Learn more on their website at www.erccc.com.