This past weekend the Phil Gainer Community Center welcomed thirty vendors from all over West Virginia that sell a variety of arts, crafts, specialty food and much more. After the Christmas Bazaar took place, the first Community Christmas Tree lighting brought together many citizens of Elkins to participate in the ceremony. On December 2nd, 2017 it was declared by Mayor Van Broughton that the tree at the community center is the official Christmas tree for the City of Elkins, West Virginia and will be lit until the end of 2017. Delicious cookies and hot cocoa were served during the ceremony, thanks to the Davis Medical Center. The event brought together the community and one of the best Christmas gifts that Elkins received were from the many that helped with the process of creating our very own community Christmas. This is what coming together as a community looks like!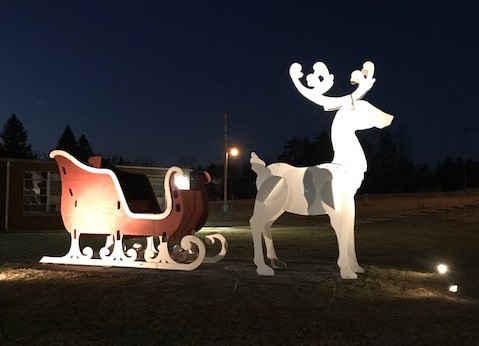 The Randolph County Humane Society of Elkins sponsored and volunteered their time to help decorate the tree. The Pennington family donated the fifteen-foot reindeer and sled to be enjoyed as people drive by on Robert E. Lee Avenue. The US Forest Service helped with the selection and removal of the thirty-foot Norway Spruce Tree from Cheat Mountain. Elkins Truck Service provided the transport of the tree and helped put the tree in place. Talbott Glass LLC, let the community center use their scaffolding to make it easier for putting up the lights and decorations around the tree. The Elkins Parks and Recreation administration helped organize this huge event to make it run smoothly. The West Virginia Children's Home helped decorate the inside of the community center for the Christmas Bazaar. Many individuals donated their trees and decorations to help get into the holiday spirit at the center. Mary's Greenhouse donated the poinsettias for the stage so Santa and his elves felt like they were at home. Mountain Valley Bank bought candy canes for the children who came and saw Santa. Davis Medical Environmental Service staff helped provide aid. The Elkins High School cheerleaders offered gift-wrapping services.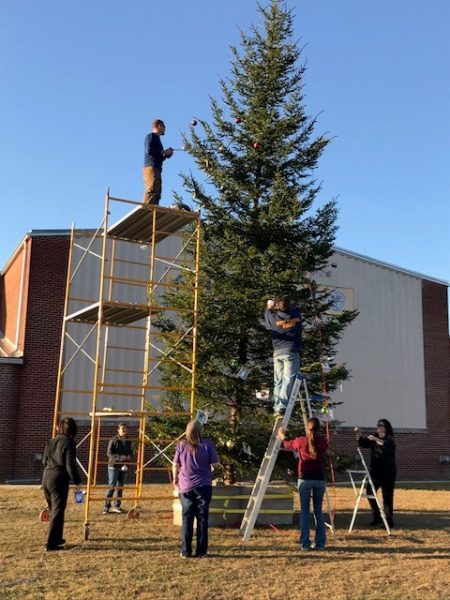 There were over sixty people who came out and participated in the first community Christmas Tree Lighting. Even though it is not the Rockefeller tree in New York, it is amazing to be a part of a community that can experience the joy of Christmas and come together to bring good to our city. Chris Lee, the Phil Gainer Community Center's facility manager, states "We have a small community in Elkins and everyone comes together, I think with everything happening in the world today we need to cling to community because we live in such a great place." As you can see with individuals, businesses, and organizations coming together we were able to create Christmas at the community center. If you get a chance, stop by and see the community tree!