The sounds of George Jones, Hank Williams and Loretta Lynn will meet the sounds of Cajun accordion and twin fiddles as Augusta Heritage Center of Davis & Elkins College kicks off the summer season with Cajun & Creole and Classic Country Week, July 10-15.
The public is invited to the Davis & Elkins College campus every night for the next five weeks to participate in activities including nightly dances in the open-air Augusta Dance Pavilion, concerts on Tuesdays and Thursdays in Myles Center for the Arts, Monday lectures and films, nightly jam sessions and much more. For a complete schedule, visit www.augustaheritagecenter.org or call the Augusta office at 304-637-1209 to request a public events rack card with the details for each week.
For those who want to sample an Augusta class but are unable to attend all-day classes, evening mini-courses are scheduled from 6-7:15 p.m., July 11-14 for $60. The array of classes planned for Week 1, include Accordion from Scratch with Drew Simon, Accordion Repair with Larry Miller, Cajun Men Cook with Johnny Navarre, Dance Party – South Louisiana Style with Jim Phillips and Christy Leichty, Sampling Cajun French with Blake Miller, Beginning Harmony Singing with Dick Harrington and Debbi Kaufman and Nature Writing and Country Music Songwriting with Mary Battiata. Registration is available online or by calling the Augusta Heritage Center office.
The week starts off at 8 p.m. Sunday, July 10 with a Cajun dance in the Augusta Dance Pavilion featuring music by Sheryl Cormier and friends. General admission is $6. Students and AmeriCorps members will be admitted for $4. Jam sessions can be found in the evenings throughout campus.
A free film screening of the AppalShop documentary "Hazel Dickens: It's Hard to Tell the Singer From the Song" will be presented at 7:30 p.m. Monday, July 11 in Madden Student Center. After the screening, a Cajun dance will take place in the Augusta Dance Pavilion with music by Jesse Lége, Blake Miller, Drew Simon and friends. General admission is $6. Students and AmeriCorps members will be admitted for $4.
The evening of Wednesday, July 13 will be filled with entertainment on campus and beyond. The annual Fais Do-Do scholarship fundraiser will start around 8 p.m. on Halliehurst porch where the Cajun cooking class will serve gumbo and potato salad. All proceeds donated will benefit the Cajun Scholarship Fund. The evening will conclude with a Cajun and Creole dance party in The Icehouse with Dexter and Gus Ardoin. Additionally, Augusta's weekly Pickin' in the Park jam sessions will take place in Elkins City Park all evening.
Concerts on both Tuesday, July 12 and Thursday, July 14 will offer the audience evenings of Cajun and classic country music. The talents of Ginny Hawker, Blake Miller, Jesse Lége, Bill Kirchen and many others will grace the stage. Both concerts begin at 7:30 p.m. and doors open at 7 p.m. in Myles Center for the Arts Harper-McNeeley Auditorium. Prior to the concert on Thursday, a craft showcase will feature exhibits and demonstrations by the arts and craft classes as well as the Folk Arts for Kids class. Concert tickets are $12 general admission, $6 for students or $82 for season passes and may be purchased online at www.augustaheritagecenter.org, at the door or by calling Augusta Heritage Center offices at 304-637-1209. Dances in the Augusta Dance Pavilion will follow each concert. Admission to the dances is included with the purchase of a concert ticket or can be purchased separately. The Tuesday evening honky-tonk dance will feature the Classic Country Week staff, and the Thursday Cajun and Creole dance will include music by Dexter and Gus Ardoin and friends.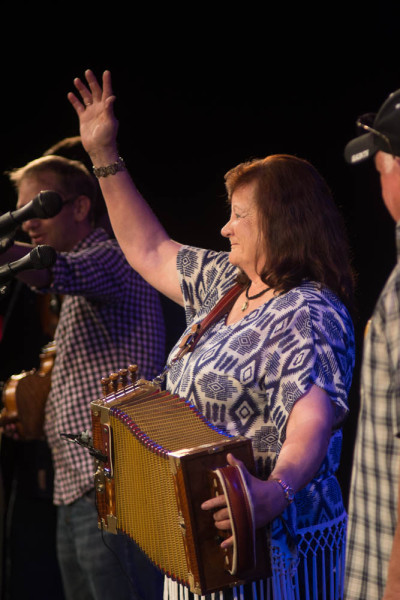 The week wraps up on Friday, July 15 with an evening of two-stepping in the Augusta Dance Pavilion at 8 p.m., starting with a honky-tonk dance featuring the Classic Country Week staff and a Cajun dance with Jimmy Breaux, Jason Frey and friends. Admission is $6 general or $4 for students and AmeriCorps members.
To register for classes or learn more about the Augusta Heritage Center of Davis & Elkins College summer sessions, visit augustaheritagecenter.org, email augusta@augustaheritagecenter.org or call 304-637-1209.
Programs offered by the Augusta Heritage Center of Davis & Elkins College are presented with financial support from the WV Division of Culture and History, and the National Endowment for the Arts, with approval from the WV Commission on the Arts.
Related to the Presbyterian Church (U.S.A.), Davis & Elkins College is located in Elkins, 2 hours east of Charleston, 3 hours south of Pittsburgh and 4 hours west of Washington, D.C. For more information, please visit the College website at www.dewv.edu or call 304-637-1243.