It's April in Randolph County – and that means it's time to show off your running skills. Thankfully, we have you covered with several upcoming running/walking events (some are even themed)!
1. Catholic Charities Sixth Annual Race for Hope Marathon/5K
Allegheny Highlands Bike Trail
Saturday, April 23; 10AM
The race starts and finishes at the Leading Creek Fire Department. Ample water stops and restrooms will be available along the course. Awards for both the half marathon and the 5K will be given for top female and male overall and to the top three finishers in each age group.
Proceeds from the race will support the vital services Catholic Charities of West Virginia provides in its efforts to alleviate, prevent and reduce poverty in West Virginia, specifically here in our region including Randolph County.
Registrations may be made online at http://catholiccharitieswv.org/race-for-hope/. The pre-registration price is at a discounted rate, and pre-registrants are also guaranteed a t-shirt in the size of their choice. Registration will also be held on the day of the race, beginning at 8:30 a.m.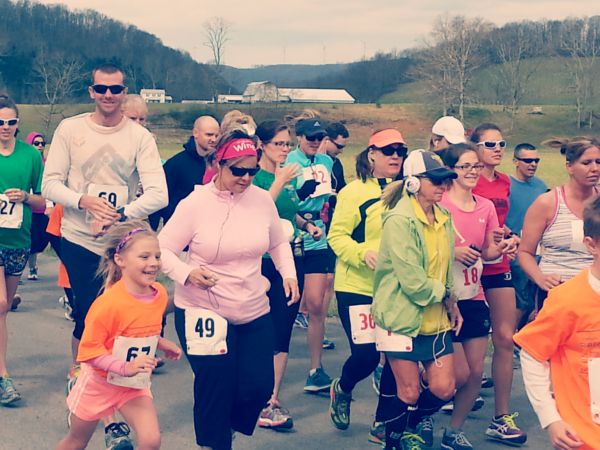 2. 2nd Annual 5K Rampage
River Bend Park
Friday, April 29; 6PM
The Elkins Depot Welcome Center is ramping up for their 2nd Annual 5K Rampage to kick off the Ramps & Rails Festival. Held at River Bend Park in Elkins, the 2nd Annual 5K Rampage includes a 5K run and a 2K walk option.
3. WVASC Autism Awareness 5K Walk/Run
River Bend Park
Saturday, April 30; 6:30PM
Come join the first Autism Awareness 5K to be held in Elkins! Registration will begin at 4:30PM and the first 50 people to register will be given a t-shirt with prizes awarded throughout the event. All proceeds will benefit the West Virginia Autism Supportive Center. The cost of registration is $15.00 and water as well as glow sticks will be provided.
4. Davis & Elkins Color Run
Davis & Elkins College
Saturday, May 7; 11AM
Start with white – all white – clothing. Then pound the pavement! The first annual Color Run hosted by Davis & Elkins College will be the most fun you've ever had while running and it's the perfect starter 5K for those who are new to running. All proceeds will benefit the Davis & Elkins Art Department and participants can choose from a 5K run or 2K walk. Click here to purchase tickets. Registration includes a t-shirt and one packet of powder. Tickets can be bought at an individual or group rate. Registration is from 8-10AM in the lobby of the Myles Center – plus, enjoy entertainment before and after the race!