Fiddles replicating shrieking steam whistles and grinding steel wheels. Banjos supplying the rhythm of a train underway. Guitars emulating the driving force of iron horses thundering through ravines. Together they illustrate the sounds of Appalachian mountain railroading in a mournful and celebratory event.
The Sounds of Railroading Concert, sponsored by the Center for Railway Tourism at Davis & Elkins College, is scheduled for 7-10 p.m. Saturday, June 4 at the Randolph County Community Arts Center in Elkins. The show features a headline performance by Emily Miller and Jesse Milnes, along with guests Roy Harper and Johnny Bellar, Jimmy Costa, and William Sherman Holestine and Gary Wayne Jordan. Tickets are $20 general admission and can be purchased at www.dewv.edu/event/sor or at the door. Those age 60 and older may purchase tickets for $15 at the door.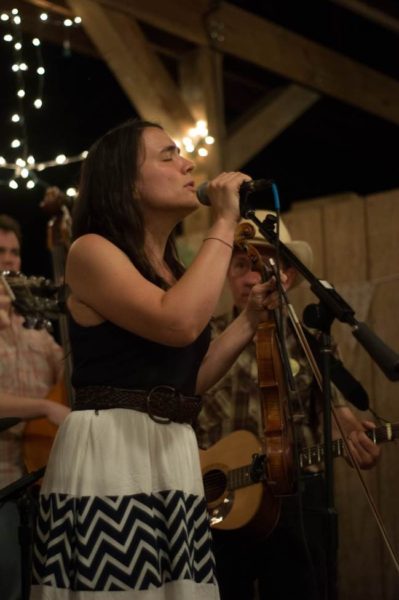 The concert will highlight the spirit of railroading's heyday. Expect to hear the railroad builder's trials and tribulations through songs such as "John Henry," travel through the state's foremost gorge on the "New River Train," and experience life in a hobo camp while "Waiting for a Train."
Milnes and Miller, a prominent duo from the Elkins area, trade off on fiddle, guitar and harmonizing vocals in a wide variety of Appalachian regional railroad music. Both teach instrumental and vocal harmony during the Augusta Heritage Center of Davis & Elkins College Summer Sessions, and have performed on the nationally broadcast "A Prairie Home Companion" and "Mountain Stage" radio shows on National Public Radio. They have toured widely across the United States and Canada, in Australia and throughout Europe. Their recorded music includes "Cherry River Line," a CD of music, including railroad songs, collected in and around West Virginia's Monongahela National Forest, two duo CDs, and several discs with The Sweetback Sisters, Miller's touring band. Milnes is a West Virginia fiddle champion and is widely known for his finger picking guitar style.
Harper and Bellar are a musical duo with a large repertoire of railroad music. Ninety-three-year-old Harper, a retired railroad brakeman from Manchester, Tenn., has devoted his life to continuing the music traditions he heard as a child while listening to the likes of Uncle Dave Macon, Arthur Smith, Sam and Kirk McGee, Riley Puckett and Jimmie Rodgers. In 1999, Harper was inducted into the Old-Time Country Music Hall of Fame, and has been honored with numerous awards, including the Tennessee Folklife Heritage Award.
Bellar, a Nashville session musician and virtuoso resophonic guitar player, is a regular on "Nashville Now" and the Grand Ole Opry. He also has appeared on the television shows "Hee Haw," "Ralph Emery Show" and "Tommy Hunter Show."
Costa plays fiddle and banjo, sings and instructs classes in traditional mountain music at festivals and workshops across West Virginia. Equally respected as a storyteller, he combines that with his music to share a large collection of railroad songs and performs them in an authentic traditional style.
Known as "Junior," Holstine is a life-long fiddle player. He performs a realistic train imitation from years of listening to steam trains pull through his hometown of Emmons, W.Va. His debut CD, "Old Jake Gilley," is on the Augusta Heritage label. Jordan, his nephew, will perform along with him on harmonica.
The unique concert was assembled by noted folklorist and traditional musician Gerry Milnes who traced much of the music and people who perform it to its roots. The Randolph County Community Arts Center is located at the corner of Randolph Avenue and Park Street in Elkins.
The concert is part of the 2016 Sounds of Railroading Conference and Concert, June 3-5, on the Davis & Elkins campus and in Elkins. The conference brings together authors, musicians, folklorists and filmmakers who will present workshops that explore the origins of traditional railroad music.
For additional information, visit www.dewv.edu/sor.
 Related to the Presbyterian Church (U.S.A.), Davis & Elkins College is located in Elkins, 2 hours east of Charleston, 3 hours south of Pittsburgh and 4 hours west of Washington, D.C. For more information, please visit the College website at www.dewv.edu or call 304-637-1243.