Inspired by the spirit of giving and fueled by determination, Davis & Elkins College students took shovels in hand this week to assist with improvements to The Icehouse. The popular campus venue hasn't been open on a regular basis because of needed repairs, specifically the correction of rain water drainage issues.
The project was initiated by the D&E International Student Organization (ISO) and coordinated through the Maintenance Department.
"The Icehouse is a special kind of venue and a lot of good memories have been written there. In my freshman and sophomore years, it was where students would go every weekend," says senior Oliver Bienias of Appenweier, Germany, who serves as ISO president. "Then I started asking about why there's not anything going on there anymore and I found out about the drainage problems."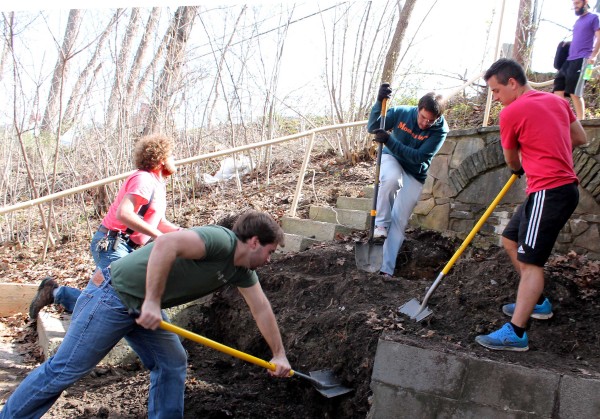 Seeking a solution, Bienias and the ISO conferred with Dan Judy, director of the physical plant, and learned that the installation of drains could potentially alleviate the problem.
Students were quick to volunteer their help, Bienias says, and this week began the preparation work.
"This involves removing soil from around The Icehouse to expose some of the subsurface masonry work and provide space for drains to be installed in an attempt to minimize the amount of water that infiltrates into the building through the masonry," Judy says.
Students also cleaned the interior of The Icehouse, including the kitchen area.
"This is bringing all the organizations together to work on one thing," Bienias says, adding that the project has drawn volunteers from Alpha Sigma Phi, Sigma Phi Epsilon and Fellowship of Christian Athletes, as well as individuals. "When I first came to D&E, they told us about giving back. I can't give money right now, but this is how I can give back. I can get involved."
The project is scheduled to continue through next week. For more information or to sign up to volunteer for a time slot, email Bienias at bieniaso@dewv.edu.
One of six national register historic landmarks on the Davis & Elkins campus, The Icehouse was built in the late 1800s by Sen. Stephen B. Elkins as a place to store ice in the summer. The structure was refurbished in 1969.
 Related to the Presbyterian Church (U.S.A.), Davis & Elkins College is located in Elkins, 2 hours east of Charleston, 3 hours south of Pittsburgh and 4 hours west of Washington, D.C. For more information, please visit the College website at www.dewv.edu or call 304-637-1243.