Although Winter Storm Stella didn't pack quite the punch in this area that meteorologists predicted, local and state crews have been working around the clock keeping our roads clear.
I thought I'd offer up an image showing what that sort of work looked like in years gone by. This photo from the 1930s shows two West Virginia State Road Commission plow crews taking a break somewhere in Canaan Valley. These trucks were a welcome site to motorists stranded in snowdrifts along this region's remote mountain roadways. We don't know who the men in the picture were, but we can be sure they had a rough job keeping Mountain State roads passable back in the day.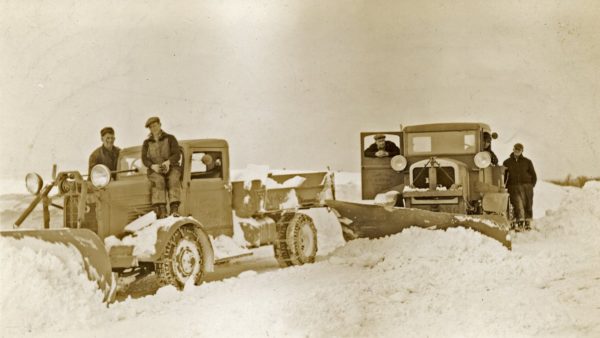 Note the chrome "FWD" badge visible on the radiator grill work of both trucks, the older of which, on the right, may date to the late 1920s. That badge indicates that the trucks were built by the Four Wheel Drive Auto Company. Founded in 1909, the FWD Company produced the first four-wheel drive automobile, appropriately called "The Battleship."
However, prior to U.S. entry into World War I, the FWD Company switched to making four-wheel-drive trucks, which the U.S. Army used in Europe during the war. The company produced 24,000 of its "Model B" four-wheel-drive trucks for the military.
After the war, Four Wheel Drive Auto Company trucks found many other uses across the U.S., including in the mining, construction, and hauling industries. In fact, I once spotted a truck that looked very similar to the one on the right. It was rusting away outside an old abandoned mine entrance near Jerome, Arizona.
Keeping the roads clear was tough work then and remains tough work today. Give our hardworking snowplow crews a thought while you're warm at home tonight!
Image provided to the author courtesy of David Strahin.