Q&A With Stephanie Bender
Stephanie Bender and her husband, Tim, are a friendly couple living in Mill Creek, West Virginia. Spend a few minutes talking with them and you'll learn they are backyard farmers and are well versed in the art of beekeeping. They understand the importance of bees to our ecosystem. So much so, that they have 45 beehives on their property. They also teach classes, provide home visits for other beekeepers, and operate a business, S&T Bees, in downtown Elkins selling beekeeping equipment.
How did you develop an interest in beekeeping?
Tim has always had bees, his father had bees when he was a kid, so it's always been in his family. It became important to use to preserve the honeybees and educate people on how key they are to our ecosystem.
How did you get started?
When we first got interested in bees, we started with four hives and it was quite impossible for us to find equipment. There's a big difference in purchasing online versus going into a store and getting your hands on the equipment. At first we did ordered online but then we decided to open our own store to be there for people, to answer questions, and help get them started in keeping their own bees.
We opened our business in 2012 in Mill Creek but recently moved to downtown Elkins earlier this year. The reason we did that is to be a little more convenient for our customer base. Our customers come from all over, from Huntington, Preston County, really from every county in the state, and this location makes it a little easier to get to us.
What do you do to prepare each year or is this a year round process?
This is a year-round process. There is something monthly that you need to do with the bees or hives. Of course, Spring and Summer are very hectic times because the bees will be out working, people need the supplies, and you have to do spring cleaning, just like in your house. That's also when we have the bee sale; we travel to Georgia and bring the bees back for our customers.
You don't really have to mess with the bees a lot in the Winter. That's when you want to take your time to build new hives, inspect the hives, do repairs, all of the time consuming upkeep. Especially when you're larger operation, it helps to prepare in the Winter to be ready for Spring. When the bees start in the Spring, it's in full force so you don't have any downtime.
Most people harvest their honey in the fall but we actually harvest during different times of the year since we are such a large operation.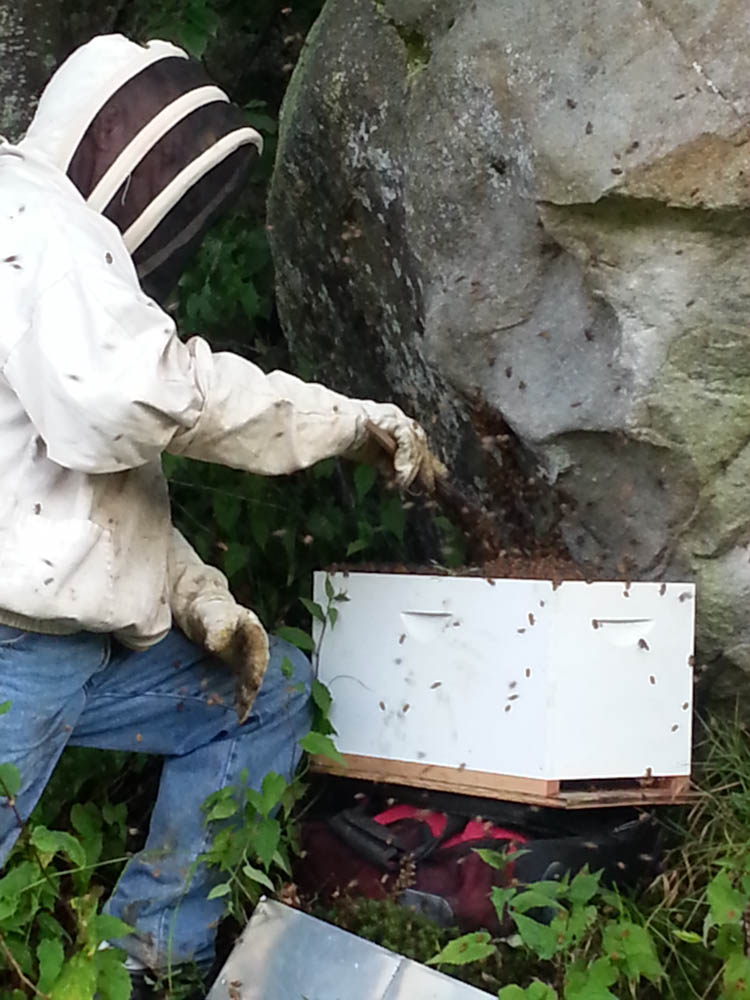 How long have you been doing this?
We've had the bees for 5 years. We've been farming together for the last 12 years, but we both also grew up on farms.
How many bee hives are on your property?
We have 45 hives on the property right now. There are fifty to sixty thousand honeybees per hive.
(That's over 2 million honeybees!)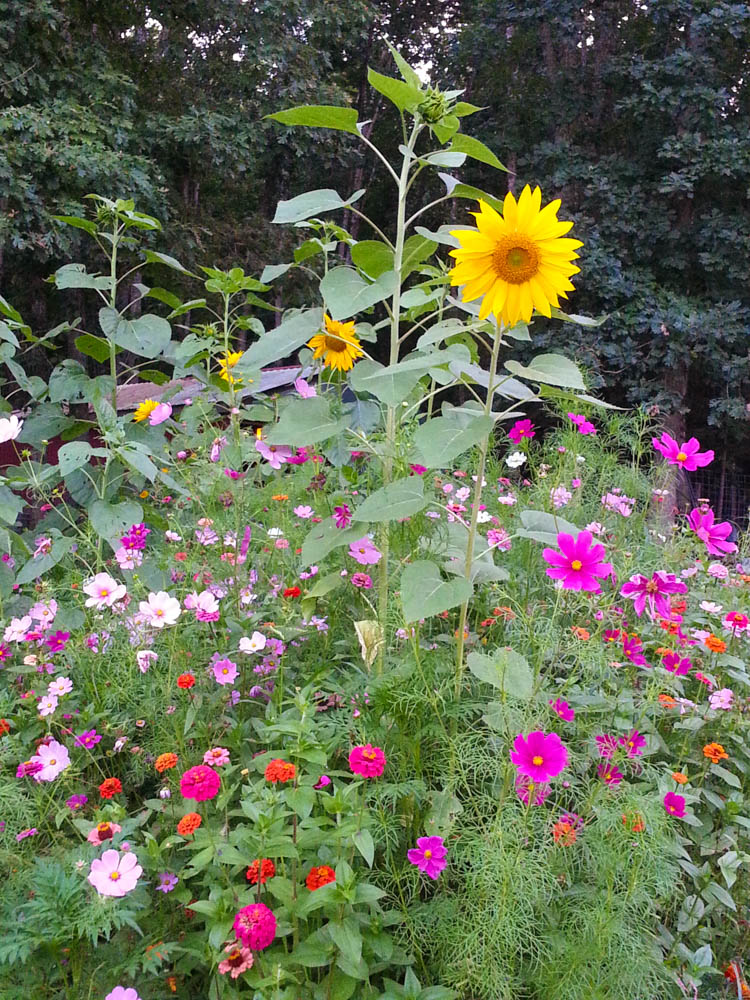 Do you have anything else on your property? (garden, etc.)
We have 27 chickens, at one point we had over 100, and they are dual purpose for eggs and meat. We also have 25 cattle, and just got out of goats. We sold all of our goats to a young farmer in Valley Head. The goats were show animals and used for meat. The bees and business were growing quickly so we had to let go of the goats. We also get a hog every other year.
We raise a garden, a very large garden, and have fruit trees, apple and pear, and berries on the property as well.
Is your farm for personal use or do you sell items?
It is for personal use. We really enjoy being self-sustaining and knowing exactly where our food comes from. The only thing we sell is the honey from the bees.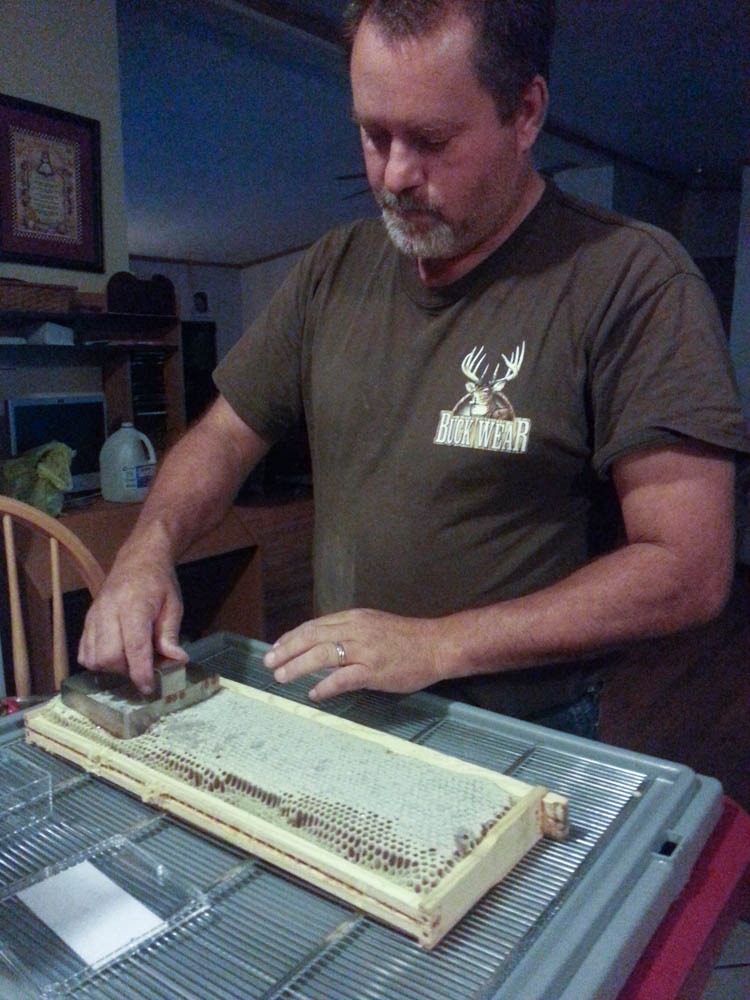 What is your favorite thing about beekeeping?
Harvesting the honey! It's not fun to get stung, that's my least favorite. Harvesting the honey is your reward for keeping the bees and the hives healthy.
What does beekeeping/backyard farming teach you/taught you?
We have both always lived on a farm. It's taught us that we can rely on ourselves when it comes to our food. It's a big deal, and should be a big deal to everyone to know where your food comes from and how to raise it yourself. I know, not matter what happens, we will always have food.
What is your least favorite chore?
My least favorite core is when you actually have to haul the cattle to slaughter. What happens at our house is we will take on the sick, injured, or almost dying calves and we bottle feed and nurse them back to health. Those are the ones we usually send to slaughter and it's difficult after creating that bond. We have one right now, his mom stepped on his hoof, and he can barely walk, but he's comfortable at our house because he's in a 4 acre feed lot with plenty of hay and water, he doesn't have to go far for anything. We'll say bye to him this fall, so that's tough.
What do you do with your product once it's ready to be collected?
We can, freeze, and process everything. Even with the fruit, we make apple sauce, apple pie filling, you name it and we probably do that with our farm.
Any additional information?
I just want people to understand the importance of bees. Honeybees are so vital to our survival and need to be preserved. That's the reason we got into this and the reason we do it so big. It's the reason we do classes and our phones ring off the hook constantly. We want to be there to answer questions; we want people to succeed because the bees are that important. They are literally our life-line. A lot of people don't understand that. Eighty percent of our food is pollinated by honeybees, and two out of three bites of food you put in your mouth is because of a bee. That's a lot, and when you sit down to dinner and think about it, it's kind of amazing. We need farmers and we need the little creatures!
We're seeing a trend of younger people in Randolph County interested in beekeeping. This is something we're really happy to see and it's something we need.