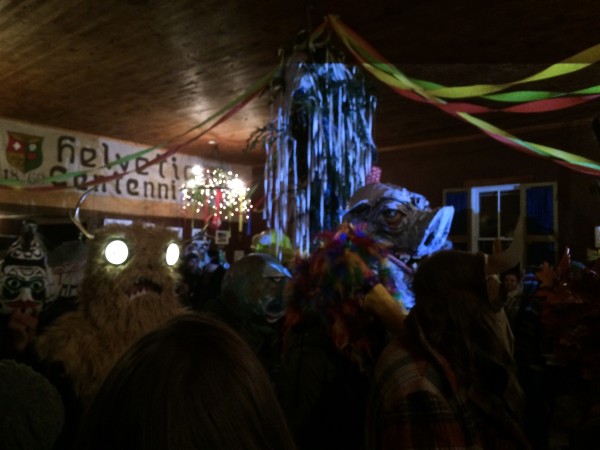 Since I first learned of it while attending WVU years ago, I've wanted to go to Fasnacht, a fanciful celebration in Randolph County's own Swiss village, Helvetia. The festival traces its roots to Helvetia's early years after its 1869 founding by Swiss and German immigrants. Each year on the Saturday before Ash Wednesday, Fasnacht brings people together for traditional food, music, dancing, and parades, highlighted by the midnight main event: The Burning of Old Man Winter, where an effigy becomes a bonfire. Through the burning of Old Man Winter, Helvetia symbolically torches winter to welcome spring.
Often described as a West Virginia Mardi Gras, no Fasnacht would be complete without homemade costumes, especially elaborate masks. Most often, the masks are large paper-mache heads decorated as people, animals, monsters, or other imaginative styles. If you plan to attend Fasnacht, enjoy the DIY ethos of the event with the tutorial below!
Disclaimer: This is my first Fasnacht and my first time making a mask for one. I'll update this post later to tell you how this recipe turns out.
Ingredients
Punching balloon (available 3 for $1 at the Elkins Dollar Tree)
Old newspaper
Painter's tray or bin of similar size
White flour
Non-toxic liquid glue
Water
Directions
Updated during the maskmaking week with improvements to the recipe!
Inflate a large punching balloon.
Make paste: Pour flour into a painter's tray. Add water and whisk until it is blended into thin liquid. Add a few squirts of glue and whisk again.
Take old newspaper and rip it into long strips, about an inch or two wide.
Dip a newspaper strip into paste. Remove excess paste. Apply strip to balloon. Pat extra paste if needed on top, and smooth it out so that the strip attaches securely to balloon.
Layer several coats (at least 3) of newspaper in this way. To make it easier to see your progress, you may want to alternate layers of horizontal strips with layers of vertical strips.
Let your newspaper-covered balloon dry overnight. If drying indoors (such as in a basement), tie the balloon knot to a string and hang it above trash bags to catch any drips.
Once your mask is dry (1-2 days later), use more newspaper-mache to create any three-dimensional facial features.
After the newspaper is dry, pop the balloon and remove it from the newspaper shell.
Cut the mask to fit your head.
Paint and decorate as desired. Acrylic paint looks great, dries quickly, and covers newsprint well!
Attend Fasnacht, wear your mask, and enjoy the fun!
Masks of years past can be enjoyed at the Helvetia Mask Museum on Fasnacht.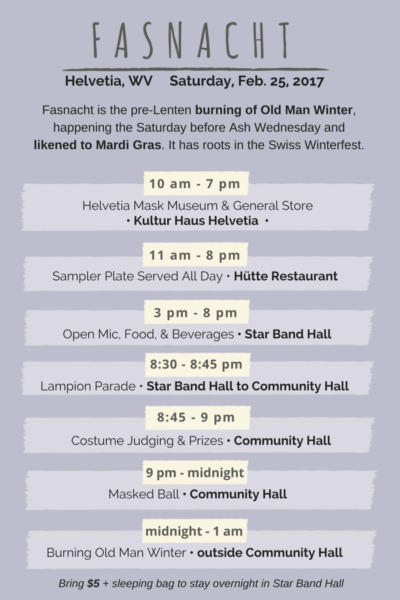 • Join Generation Randolph's Facebook event for Fasnacht 2017
Save