Belgium is challenging culinary territory if you are health-conscious and, shall we say, just a tad finicky about what you eat. Hot, crispy waffles overflowing with sweet toppings, hand-cut French fries covered in every imaginable sauce, and an endless supply of delicious local beer are available on nearly every street. And then there is the chocolate. In my everyday life I have learned to deal with my dietary eccentricities in a way that my quirks often go unnoticed by others, but when I am traveling I tend to get quite anxious about not having a much control over my diet. Sometimes it takes me awhile to loosen up and realize that it is okay for food to be a source of pleasure instead of strictly fuel for the body. Belgium is a great place to have this epiphany. The food culture, or my impression of it, is somewhat of a mash up between French and Dutch cuisines. Although some things still proved too rich for me, I was able to greatly enjoy the fresh mussels in white wine and the large varieties of strong beer and chocolate truffles.
Playing outside of Amsterdam usually means that we have to rent backline equipment from a percussion rental company or music store. As these entities are primarily used by tour managers and local venue owners who already know their way around, for an outsider they are often hard to locate. After knocking on a few apartment doors and discovering we were on the wrong side of town, we found our rental gear with only a few minutes to spare. We played a gig in Ghent on Thursday night, a cozy bar called Cafe Afsnis with a great crowd of locals who were able to advise us on all of the things we should do with our few days in Belgium.
Friday and Saturday had us visiting Bruges and Antwerp. We drank beer and rented bicycles and languished on sunny terraces in that fabulously European fashion that is available to anyone provided they pay rent in the form of an espresso or midday glass of sparkling wine. We returned to Amsterdam excited for the week ahead; friends were coming to town!
On Sunday night, we got to check out or friend Lydia Warren at the Waterhole, an Amsterdam live music venue that we also play. Lydia is an immensely talented blues artist based in Charlottesville, VS, and was concluding her own European tour. It was wonderful to have a chance to hear her play.
On Monday we had the chance to attend a show for Mercedes Benz Fashion Week Amsterdam. Never missing a chance to represent Randoph County, we wore amazing silk garments designed by Elkins design prodigy and dear friend Nellie Rose. I got street style photographed in her dress and I hope she is well represented on someone's fashion blog.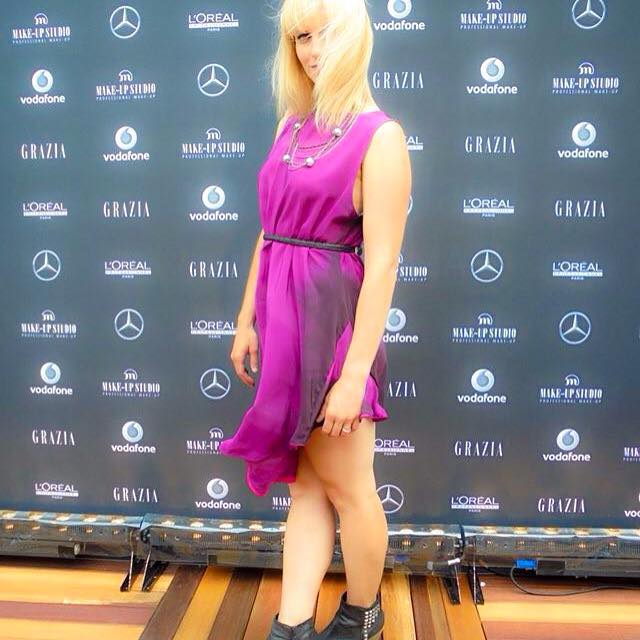 Monday evening brought more friends, as we met up with Chip and Laurie Chase, who own Whitegrass in Tucker County, and Gil and Mary Willis, who own Elk River in Pocahontas County. It was thrilling to see these folks not only in the summer, as we usually hang out during ski season, but in the summer in Amsterdam. They quickly got hooked up with bicycles and we enjoyed showing them some of our favorite parts of Amsterdam and hearing about all of the cool things they discovered on their travels as well. That crew made their way to Amsterdam via Iceland, as we did, and continued on to Belgium and France. Happy travels, friends!
On Wednesday we had a chance to lay down a few tracks at Blueshine records in Den Haag.  Blueshine is owned by an amazing blues guitarist named Peter Struijk who we met in Memphis a few years ago when we competed in the International Blues Challenge.  Peter, who is sponsored by National Guitars, had an amazing collection for Seth to choose from; he wound up selecting a 1931 Duolian, which was produced by National for Sears & Roebuck; an extremely rare and special instrument. I can't wait to hear how it sounds.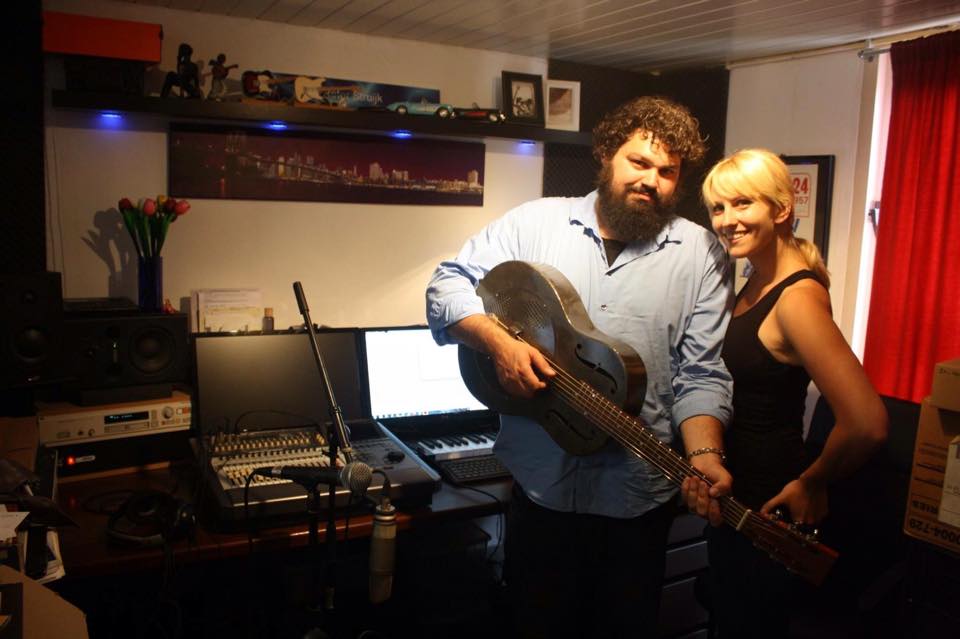 On Friday we played at Cafe Briljant in Haarlem, which I will say is one of my favorite places we play in Europe. Briljant is an amazing, classic Dutch brown cafe with an epic beer selection and a very cool owner named Rob who I regard as my beer guru (brew-ru?) and am happy to call a friend. Briljant is on if my favorite clubs because it has the warmest, friendliest coziest atmospheres I have ever encountered. The Dutch have a word for this feeling, "gezellig", which I cannot really pronounce and it doesn't translate very well to English, but I understand enough to know that Haarlem and Cafe Briljant are both quite gezellig.
Chip, Laurie, Gil, and Mary were able to come to our show at Briljant, and Chip sat in on harmonica, which made the show very special- like we were playing at Whitegrass! To add to the revelry, another friend, Koen, an Amsterdam native we met at our show in Husavik, Iceland where he was working as a photographer for one of the whale watching companies. Koen takes pretty amazing nature photos, and his whale shots are unbelievable. He also took a lot if great photos and videos at our show in Husavik!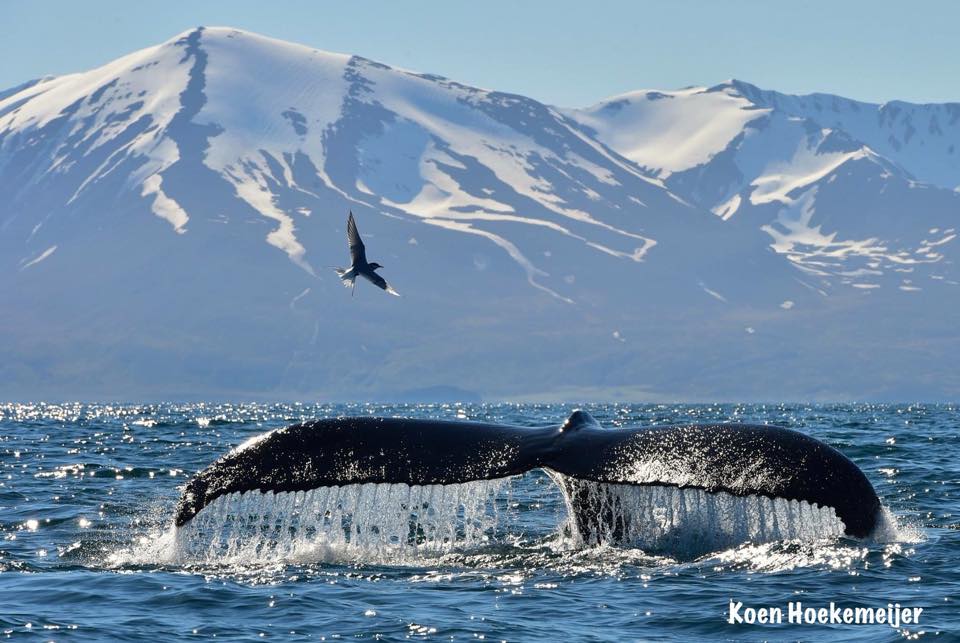 Yesterday (Monday) was Seth's birthday, an We began the celebration on Sunday at the Milkshake Festival, an over the top party celebrating "all who love", featuring a large, vibrant LGBTQ demographic and lots of live music, DJ's and general festival fun. On his actual birthday we met up with Briljant Rob for beers at Brouwerji T'IJ and De Prael, two great Amsterdam breweries with amazing beer. Afterward we caught an amazing performance by the Skatalites at Melkweg, one of the largest live music clubs in Amsterdam which frequently brings in international acts.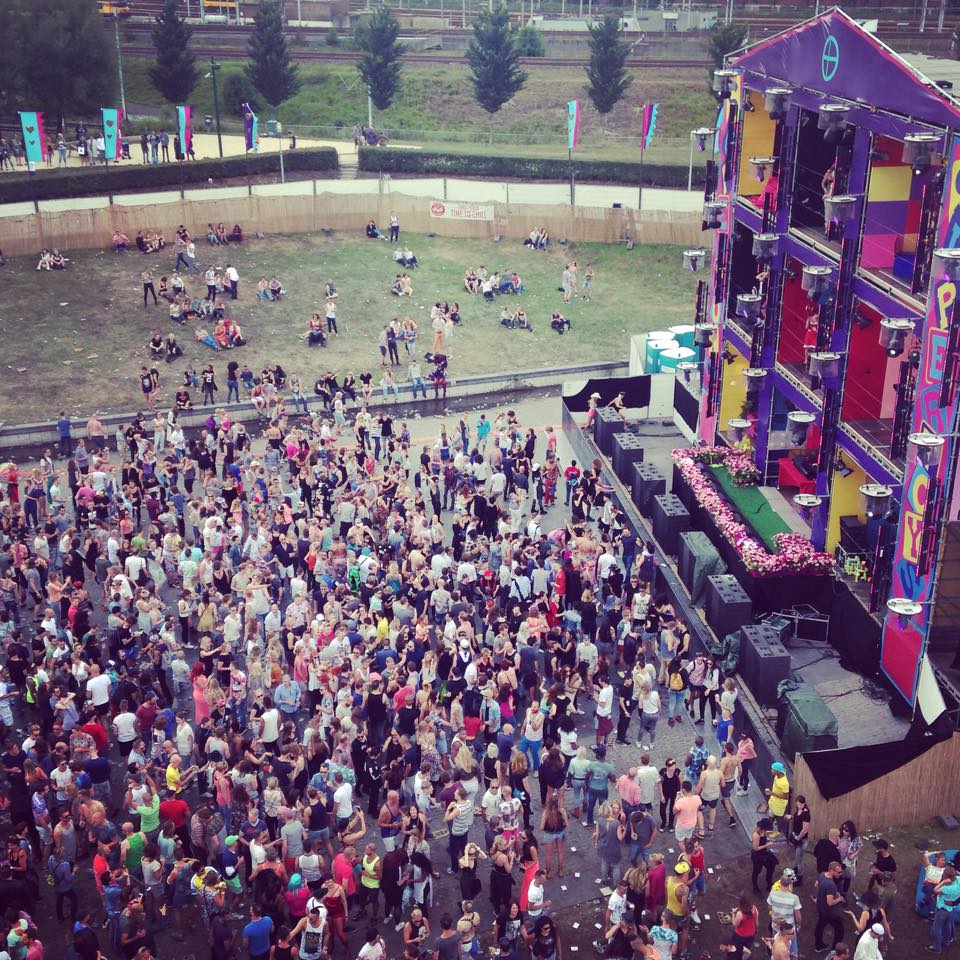 On Thursday we head out to Germany for shows in Hamburg, Bremerhaven, and Flensburg, and we will get to visit with my sister, who is in Germany visiting her mother-in-law. Seeing family and friends, new and old, always makes my day. We have had such a wonderful run of evenings spent with good people, surrounded by food and drinks, enjoying the company and the scenery.