The Mountain State Forest Festival Royal Court Jesters have entertained Maid Silvia, her court, and thousands of spectators for decades. The Jesters accompany Maid Silvia throughout the Forest Festival and perform during school tours and parades. Most notably, they descend coronation hill while performing amazing acrobatics, tricks, and stunts choreographed to a selection of music.
Each year Randolph County sixth, seventh, eighth, and ninth graders are invited to try out to become a Jester. At the tryout they perform a choreographed group routine which includes partner stunts, synchronized moves, and tumbling. They perform an individual routine as well, followed by an interview process showing the judges their personality and explaining why they would like to be a Jester.
Once chosen, the girls begin working on their coronation routine; the routine they will perform for Maid Silvia before she is crowned Queen. The Jester committee is made up of a trio of talented ladies who all happen to be related; Jess Arbogast, Samantha Davis, and Elizabeth Arbogast. They have been working with the Jesters for several years and are very proud of the this year's jesters.
This year, four girls were chosen to serve as 2015 Royal Court Jesters; Emily Bibey, Alli Dolly, Phoebe Riddle, and Gabi Satterfield. Emily is a seventh grade student at Elkins Middle School. She is a competitive dancer, in her sixth year of dance and has been tumbling for many years. Alli is an eighth grade student at Elkins Middle School. She has been a soccer player her whole life and recently started tumbling last November in pursuit of becoming a Jester. Phoebe is a tenth grade student at Elkins High School. She has participated in band for the past six years, and cheerleading for the past five years. She also serves as a leader for her church youth group, co-captain of the EHS Varsity cheer team, and section leader for the EHS marching band. Gabi is a seventh grade student at Elkins Middle School. She has been cheering for the past two years and also participates in dance.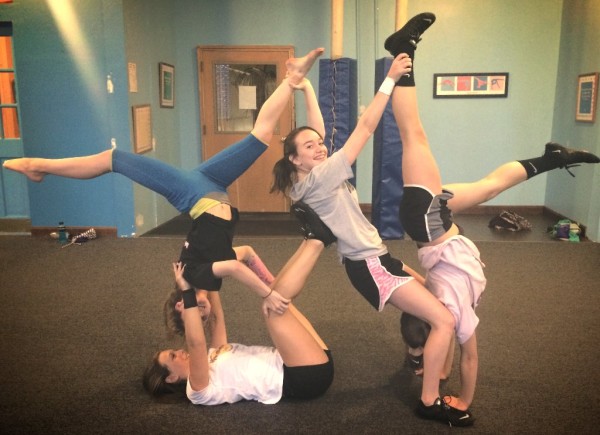 After one of their many practices, I asked the girls some questions about being a Jester.
What does being a Jester mean to you?
A: Being a Jester means it's our job to entertain the audience and our Queen.
E: It means participating in a great experience and getting the chance to entertain people.
P: We have the opportunity to make sure people are happy and entertained while making the coronation lively as we come down the hill.
G: It's important to be entertaining to the kids in the audience so that one day they will want to be a Jester too.
Why did you decide to try out to be a Jester?
G: I enjoy entertaining people.
P: Past Jester's have influenced me to try out.
E: I have always enjoyed the Jesters at past coronations and decided I wanted to be one of them.
A: A lot of my friends have been Jesters in the past few years and watching them made me really want to become a Jester.
What is the most difficult part of being a Jester?
E: Perfecting the routine!
A: Doing your best every time and not slacking.
P: Always throwing your tumbling and trying to make it look great every time.
G: Making sure we don't get hurt.
Their coach, Jess Arbogast, added that they have been practicing 6-8 hours a week since mid July.
What is the most rewarding part about being a Jester?
E: Performing at school tours and at coronation will be the most rewarding.
P: Getting to say that I had this experience and getting to the end of the routine on coronation day and saying, "wow, I just did that!".
G: Getting to remember this time for the rest of my life!
A: Just what Phoebe said, it's about the experience and being about to say we worked hard to get to this point.
How is it working together as a team?
P: Awesome! I love it! It's been a great experience and it's really important that we work together.
E: Perfect! We get a long really well and we wouldn't be able to do this without each other.
G: Great! It wouldn't be the same without each other.
A: Fabulous! It's important that we work together and stay on the same track.
Coach Jess added that the stunts and tricks the Jesters are asked to do require a lot of trust and skill. There are several partner and group stunts throughout the routine and the girls have worked together wonderfully and have always had each others safety in mind.
What does it take to be a Jester?
All: Hard work, determination, effort, patience, and perfection.
What challenges have you faced?
E: Oh, this is my question! I've broken my wrist and dislocated a toe!
A: Throwing all of my tumbling, every time!
G: Throwing tucks on the hill!
Being a Jester is not something just everyone could go out and do. Emily noted that it's most definitely the hardest sport she's ever done.
Coach Jess wanted it to be clear that Emily is a fabulous one-handed tumbler. Even though she will be wearing a brace on coronation day, their routine is still one of the hardest she's choreographed!
What is your favorite part of the Forest Festival?
E: School Tours
A: Coronation and the carnival
P: Coronation and the lemonade!
G: Coronations, the parades, the carnival. I like the corn dogs!
What are you going to do on your night off?
All: SLEEP! Get rested up and energized for the coronation!
What are you looking forward to the most?
A & E: Everything!
G: Performing and going to our school! And seeing our coaches faces after we are done performing. (They are hoping for happy tears)
P: Seeing the peoples faces as we are coming down the hill. I am so excited for that part!
What will you miss the most?
All: Each other! Seeing each other almost every day!
The girls expressed how thankful they were that they all got along so well, considering they didn't really know each other when they began their journey. There is a lot of time, energy, and talent put into this festival "committee". Their parents have been supporting them throughout this journey, often camping out on blankets at practices making sure the girls have water, and sometimes snacks! They have all said that this has been a fun experience for not only their daughters, but for them as well.
It is clear that this is a rigorous but unforgetable experience for these girls. While watching them practice their routine, it's hard to believe they are just middle school and high school students, they are doing some really impressive tricks and stunts.
The girls hope to inspire the young children of Randolph County to become Jesters by doing their best and being entertaining.
They have several practices before the Festival starts and even some during festival week. They will travel around Randolph County visiting each school with Maid Silvia before making their debut at the top of coronation hill on Friday, October 2, 2015.