Women in the Elkins area have the opportunity to learn new skills and participate in group rides as part of Liv Cycling Clinics. Local bike shop co-owner and racer, Mandi Riddle, is conducting a series of nine free workshops in 2016 as a Liv Cycling Ambassador.
Seven women attended Mandi's first clinic on February 10th at Joey's Bike Shop. Participants ranged from high school students to grandmothers with beginners interested in learning what bike could be best for them to racers and life-long riders.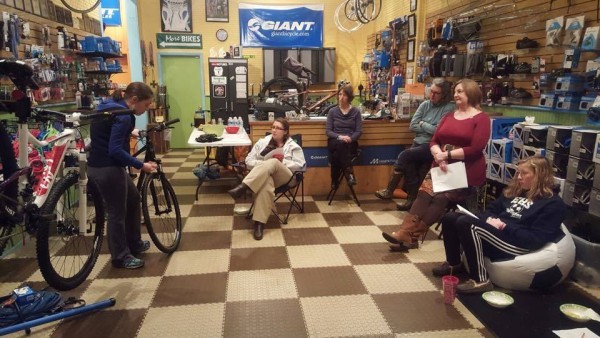 Mandi taught the group the parts of a bicycle and led a discussion about the key items to take on a ride. First, Mandi explained the difference between a road bike and a mountain bike and described the purpose of parts ranging from the chain ring and derailleur to hubs and tubes. She also taught the group about the two common types of tubes valves, schrader and presta valves.
During the second part of the workshop, Mandi emphasized the importance of wearing a helmet and carrying basic supplies when riding. She encouraged the group to carry food and water, a light, an ID, a phone, appropriate clothing, and tools to change a tire.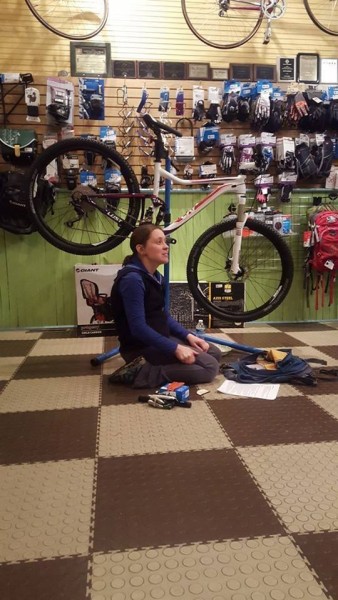 The workshop concluded with an open question and answer session and a discussion of upcoming workshops.
The next workshop will be held Wednesday, March 2nd at Joey's Bike Shop from 5:30-7:00. The March 2nd workshop will focus on how to change a flat tire. Attendees are encouraged to bring their bikes, pumps, and basic tools to learn to change their own tire. There is no charge for participation, however tubes, patches, and tire changing levers can be purchased at Joey's Bike Shop and should be purchased in advance if possible.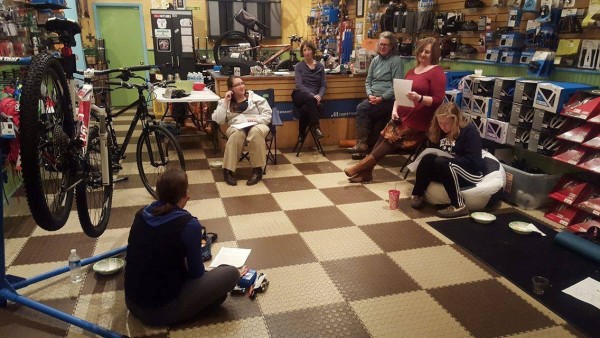 Additional upcoming events include April's workshop, a group ride on the rail trail and a May 12th workshop on Form, Function, and Fitness with a Liv Cycling Employee.
Mandi became a Liv Ambassador in 2016 and is conducting her clinics to develop the women's cycling community. She is one of the 80 Liv Ambassadors nationwide and acts as a go-to resource for Liv and general cycling related information. For more information on Mandi and the Liv Ambassador program, please visit: http://www.giant-bicycles.com/en-us/livgiant/ambassador/mandi.riddle/205/
For more information on the clinics, please contact Mandi Riddle at 304-636-0219 or Mandi@joeysbikeshop.com, visit their facebook page Joey's Bike Shop LLC, or stop by Joey's Bike Shop at 19B Third St. Elkins WV