Fall is in the air and Forest Festival is in full swing. Downtown Elkins is filled with the aroma of the annually highly anticipated foods that are only available this time of year. Yesterday evening Grayson Blythe, Meaghan Eyler, and I once more took to the streets of Elkins to rank the top foods of the Mountain State Forest Festival. We revisited some of last year's favorites and added some new stops to our food sampling adventure. With these new stops we visited eleven stands total and as a result this year we created two categories of sweet and savory with a grand  champion that was the best of the best. Again we only asked for a sampling of their best dishes (expecting just a bite), and ended up with whole and multiple servings of what each stand thought was there best. In the same spirit as last year, all of the workers were beyond friendly and very proud of what they had to serve. Every bite we took was absolutely delicious and we highly recommend each of the food stands. We used the same ten point scale judging on taste, appearance, creativity, and overall atmosphere of stand for a total of 40 points. We found that all of the food stands were very close in ranking which shows, again, that all of their food is certainly worth waiting all year for.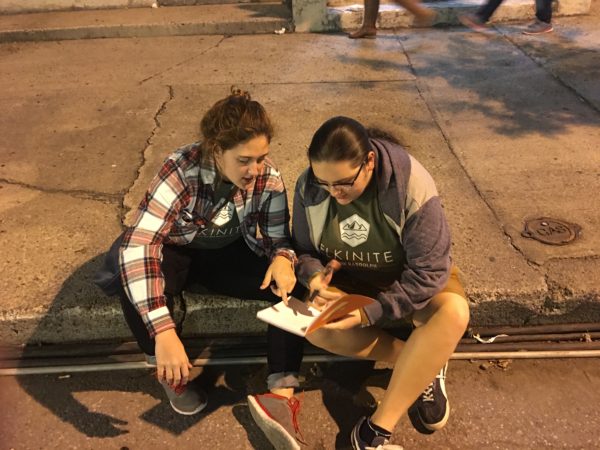 Starting with our sweet category, we have:
3. Funnel Cake Stand – Across from Kiwanis on 3rd Street
Here we had a fresh hearty chocolate drizzled funnel cake that is sure to fill you up fast! The chocolate drizzle was a nice delectable touch, and the cake had an enjoyable crunch. All in all, a very solid and enjoyable funnel cake found conveniently in the middle of the carnival.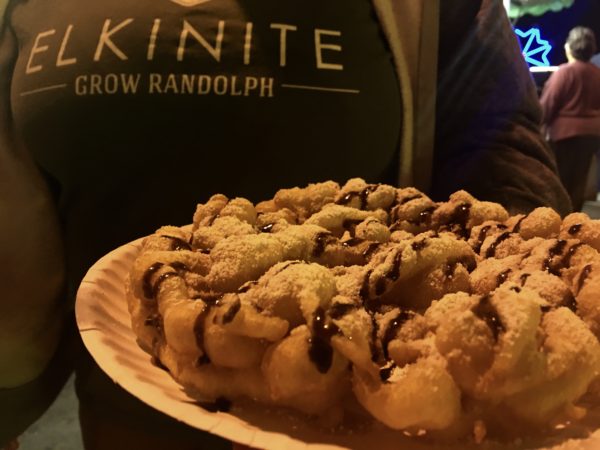 2. Monie's Sweet Things – 3rd Street
A fresh candied apple was our treat from Monie's. The perfect candy coating had a light cinnamon flavor that really complimented the apple, and made the desert even more enjoyable. If candied apples aren't your thing there were plenty of other options including caramel apples with M&Ms and other candies, cotton candy, and more!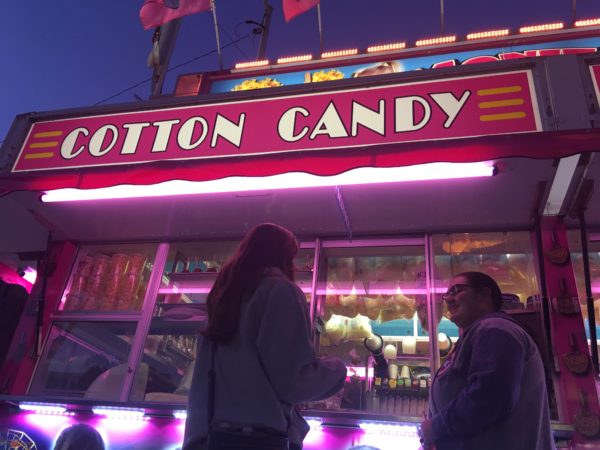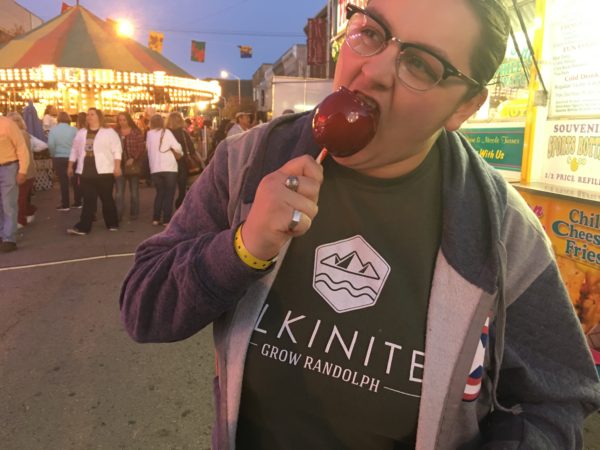 1. Fawcett's Funnel Cakes – Corner of 4th and Davis
This funnel cake was light, crispy, fresh, and was coated with the perfect amount of sugar. The staff were fast, friendly, and made us feel welcome for the few minutes we spent at their stand. Overall, it was an awesome take on a classic festival staple. This one also won Meaghan's seal of approval.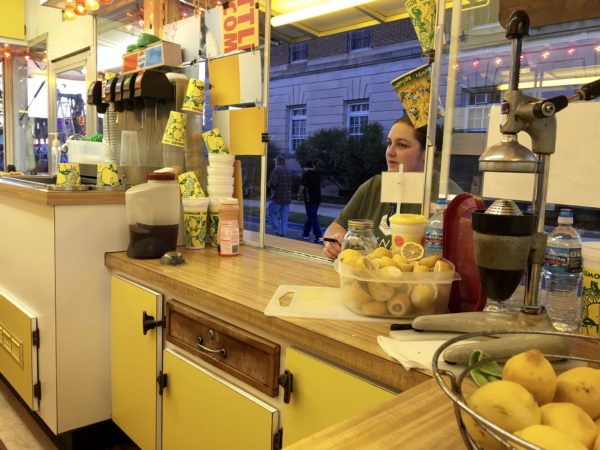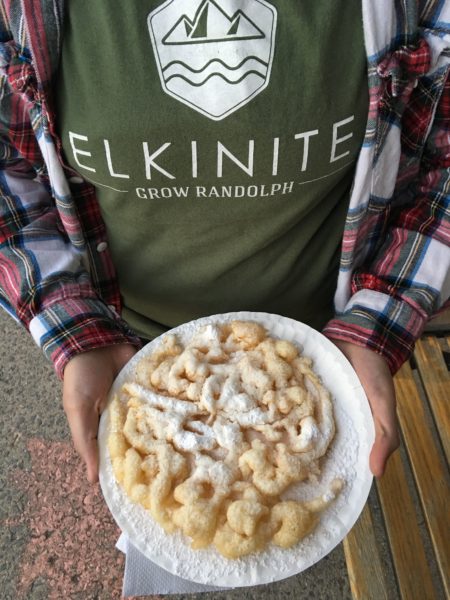 For honorable mention in the savory category:
Mr. K's – 3rd Street
Their fries are just wonderful. They have a unique and addictive flavor that keeps you eating fry after fry. Cooked fresh, they were nice and warm and also had the golden look one expects of a french fry. This is a very solid, enjoyable treat.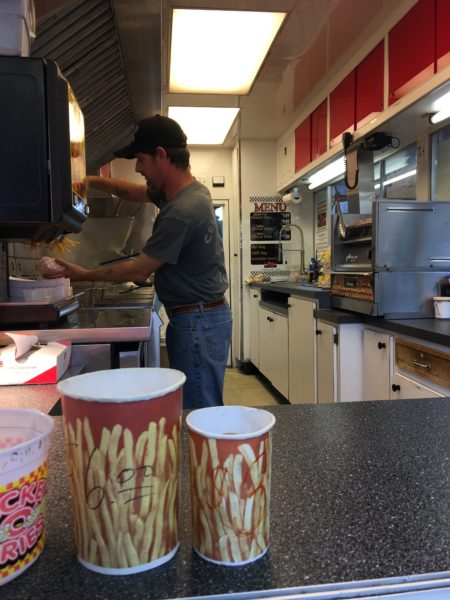 Weenie Wagon – 3rd Street
The Weenie Wagon serves a delicious homemade corndog that is coated in a crunchy outer layer with a delicious hot dog inside. Cooked to a perfect golden brown, this is another festival staple that keeps you coming back. Alongside a delicious corndog the staff are friendly and the stand feels welcoming.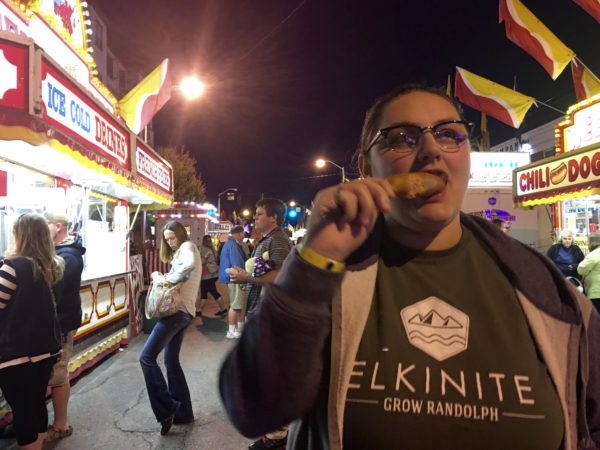 Paps Lothes BBQ – Beside Intermountain Office
Here we received samples of all of their meats, and they were all delicious. They were subtly sweet, but there is a pepper sauce available that will heat things up quickly. If you enjoy sauces with a bite then this is the perfect one! It definitely wins the best sauce award. Overall, it is great American barbecue.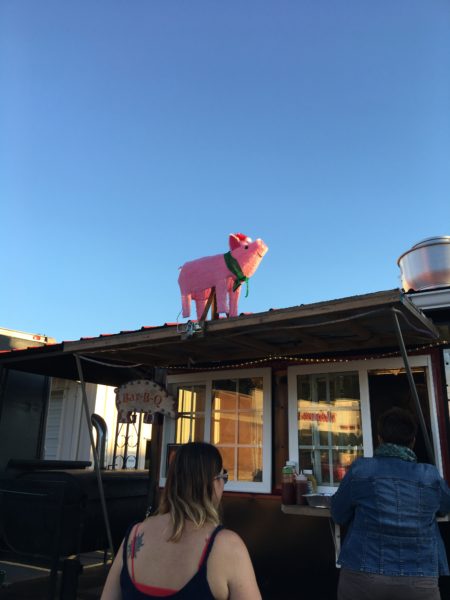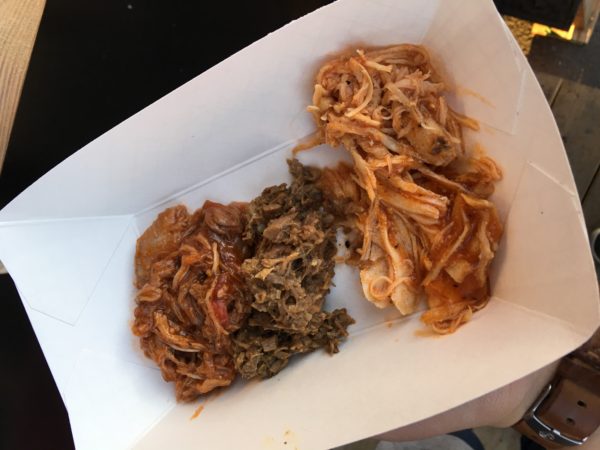 Kiwanis – 3rd Street
This beloved food stand has stood the test of time with a crunchy, delicious corndog. The breading is not too sweet, perfectly moist, and stays together well. They were also fairly big, and everything you could want in a 'dog. This is sure to remain Elkins' favorite for years to come.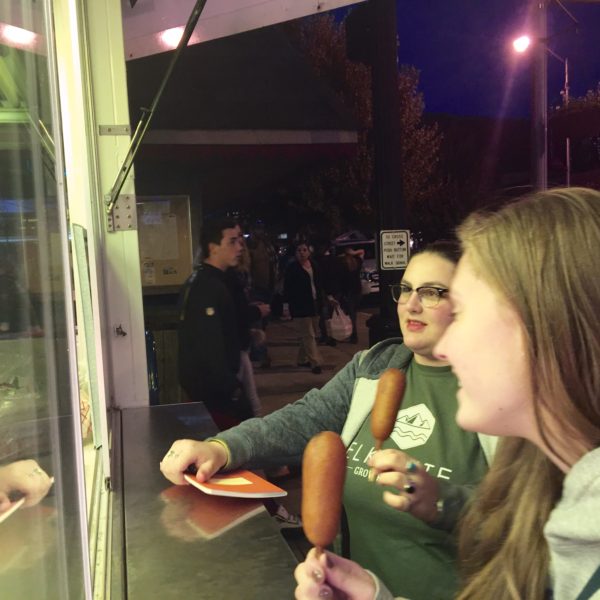 Now, for the top three savory stops:
3. Aumer's Steak and Sausage – 3rd Street
This family business knows how to serve a cheesesteak. The steak was perfectly cooked and juicy. Topped with gooey cheese, onions, and mushrooms this sandwich was to die for. It is a great classic cheesesteak that is certainly a sandwich to seek out at the carnival.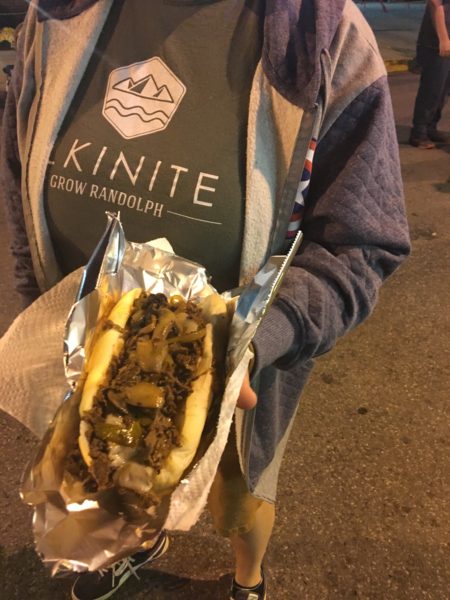 2. Richardson's French Fries – Behind Lynn's
Here we had their corndogs and fries. The corndog was another 'dog that had a crispy yet not too sweet breading, and the fries were out of this world. Alone they were awesome, but when the vinaigrette that is near the ketchup was added they were made even better. All of the food looked and tasted delicious and the staff were friendly and fast.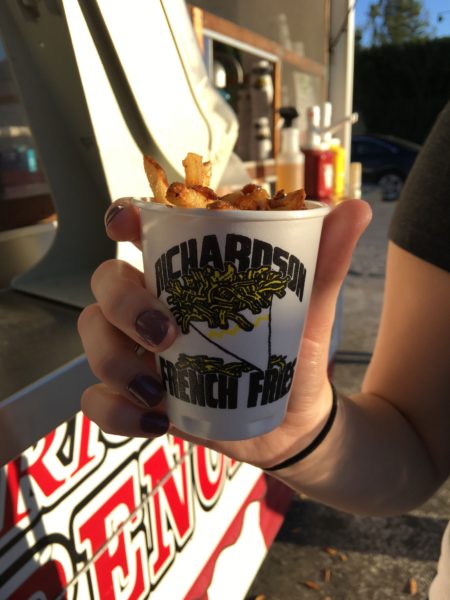 1.  Shirley's Steak and Sausage – Behind Lynn's
The Shirley burger is again at the top because their unique take on the classic cheesesteak is simply incredible. Topped with cheese, fresh vegetables, and a great sauce on a subtly sweet bun, this is one food you do not want to miss. It is a great looking sandwich and tastes just as good as it looks.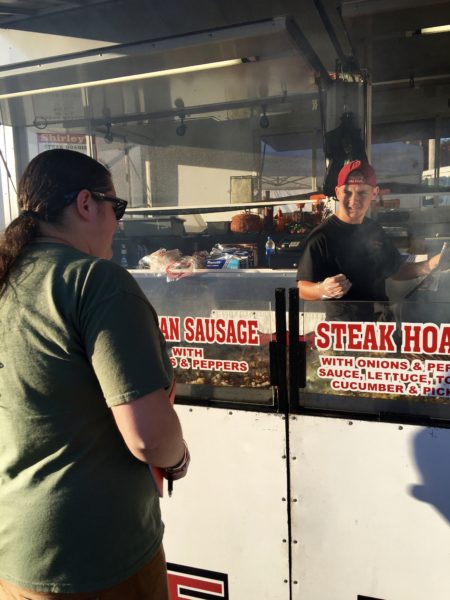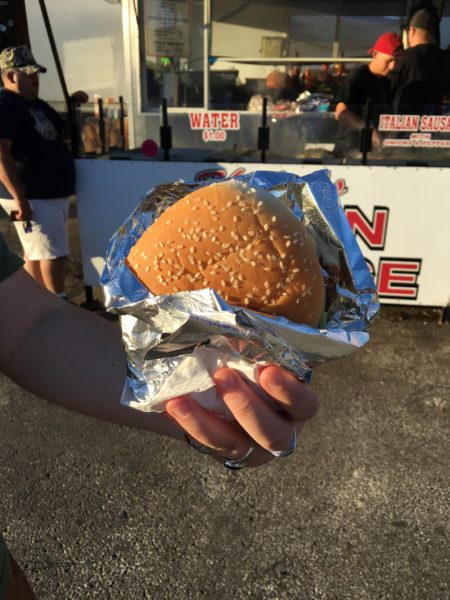 While all of the foods were delicious and they were all within points of one another, one simply blew us away. For grand champion we have:
Back Porch BBQ – Across from Lynn's
Wow. That is all I have to say about this one. We stepped into what looked like a massive line and within minutes everyone there had all been served and were happily munching on their meal. For us, first to come out was the nachos. Smothered in cheese, salsa, sour cream, jalapeños, and pulled pork. I'm normally not a fan of sour cream, but on these it was no problem as all of the ingredients mixed perfectly together to create a delicious nacho dish.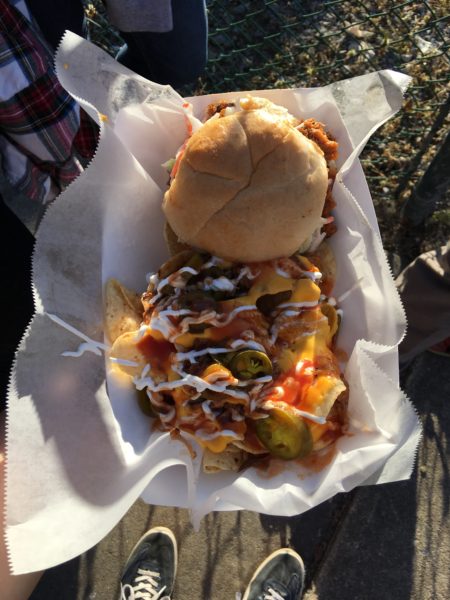 Next, we got their cheesesteak and pulled pork sandwich. The cheesesteak is a massive sandwich that almost melts in your mouth. There is a slightly smokey flavor that just adds to the overall flavor. The pulled pork was the same, and it was topped with a perfect coleslaw that was the finishing touch for an already awesome sandwich.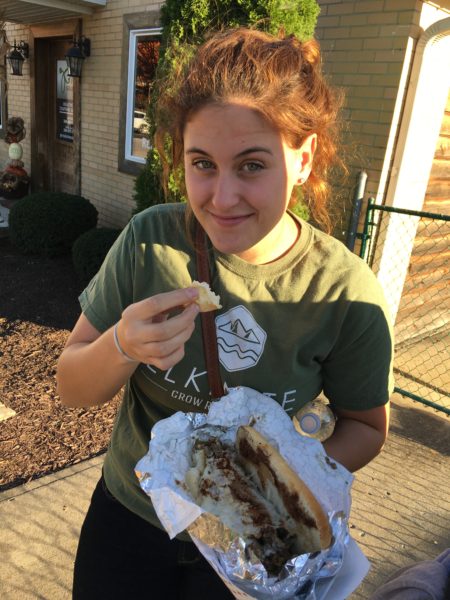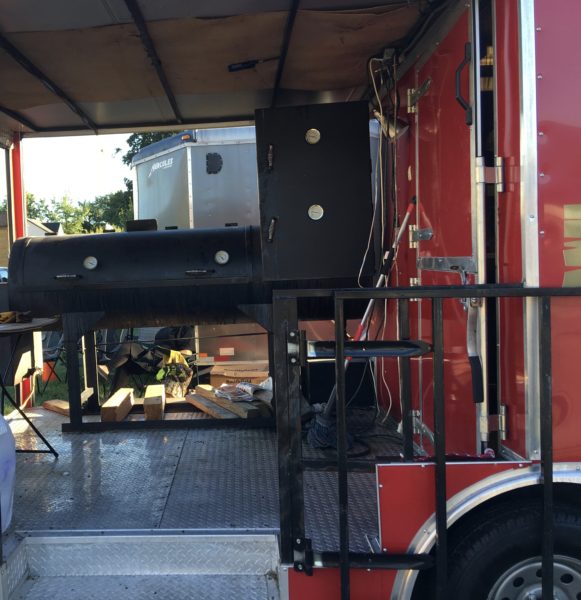 Not only was the food delicious, the service was quick and very friendly. Certainly a deserving champion. 
So here it is again, the top foods of the Forest Festival. Everything we ate was absolutely delicious, and each food stand is worth visiting for a meal or treat while enjoying the festivities. For an extra challenge this year, try to eat all eleven in one evening! Be sure to stop by your favorite or try a new one before they are gone because when they are gone, they are gone…for another year!