Complete, Whole, Health, Fitness, Seven, Lifestyle; words written on a dinner napkin between two young minds inspired and driven to provide a different approach and experience to those seeking a healthy lifestyle.  For Sydney Metheny, a native to Elkins, a desire to give back to the community that once provided her with the foundation to accomplish all her goals and for Dr. Kyle West, an inspiring town that was yearning for complete individualized care that focused on the lifestyle, quality of life and functionality of a client.  At the corner of the napkin a 7 was drawn and as the circle began to complete the symbol that is known as Seven Performance, so did the vision of a complete facility, where fitness, physical therapy, personalized training and treating the body as a cooperative unit, rather than individualized parts was valued.
Seven Performance opened its doors on March 15th, 2014 to the town of Elkins, West Virginia, inspiring the community to take a different approach to fitness and physical therapy.   Located in the heart of downtown Elkins, community members and tourists have the convenience of engaging in all that Seven has to offer while contributing to a healthier community.  By providing a cutting edge training facility that offers physical therapy, nutritional consulting, personal training and fitness classes, community members are motivated and assisted in attaining their complete and optimal performance.  Kyle offers his expertise in rehabilitation, biomechanics and injury prevention to allow his clients to recover from and prevent injuries.  While, Sydney is a certified nutrition specialist and personal trainer who programs and instructs daily fitness classes utilizing TRX and RIP suspension trainers in one on one and group atmospheres.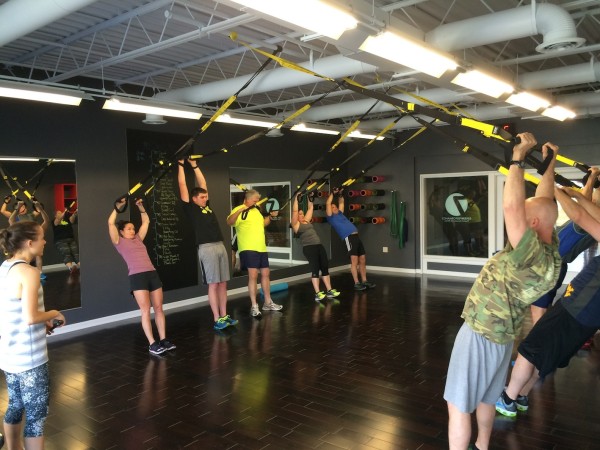 Whether one desires personal training, physical therapy or a combination of the two, Sydney and Kyle use a multimodal approach that offers an unparalleled treatment and training method.  This combination of expertise assists each client in achieving all their fitness and health goals with an individualized, innovative and complete training experience.
SEVEN Performance enters its second year of operation with the expansion of its second story training studio and the addition of new classes.  Currently in the community, they provide a summer Youth Soccer camp, Speed and Agility camp and Otter's Swimming dryland training.  Along with helping/coordinating many events and camps within the community, they have also recently begun the campaign for a grant to promote Healthy Elkins.
With one year under their feet, this dynamic duo strives every day to create the Seven circle of a healthier lifestyle for this inspiring community.  Creating the idea and experience that a healthy way of life is exciting and attainable; they believe that a community of health is of complete health, each individual client can always feel valued as they strive for their whole, complete, but individual circle of health.