She was missing. People were uptight. Mayor Van Broughton had to issue a statement. Some people believed she was removed from this corner for reasons related to the public controversy involving the name of the Washington Redskins, and others just demanded her return.
Everyone else just knew she wasn't there, and that simply wasn't right.
It wasn't the first time Minnehaha departed the junction of Routes 25 south and 33 east, though. In July 1986 she was removed for one year after falling face down following an accident in which a pipeline truck driver managed to crack her feet. In March 1992, a customer struck a utility pole and the base on which Minnehaha stands, leading to even more repairs, but for the past 23 years she has remained in place at her protective post.
Until earlier this year, that is, but what most folks did not realize was that Minnehaha was simply getting an off-site makeover.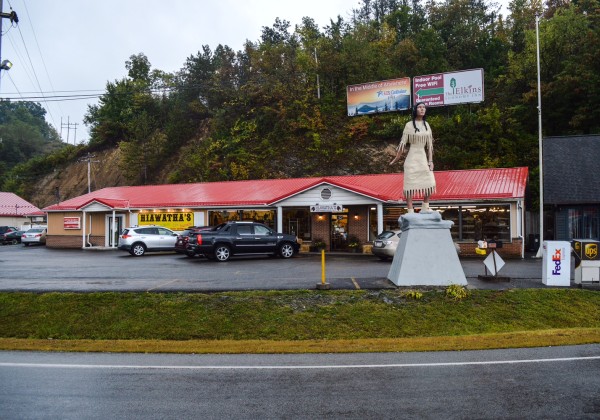 "We could see that she was leaning a little bit, and a few people told us that they noticed it, too," explained Cay Wood, co-owner of the Hiawatha Country Store. "She wasn't going to fall any time soon, but it was only a matter of time, so that's when we had her removed so she could be redone again.
"When she was no longer on that corner, I think this town went berserk," she said with a grin. "The mayor told us that their office was receiving all of these calls because people were so mad about it. People from the Randolph County Development Authority told us that they were getting the same kind of calls.
"One man who called the store was very confident that she was taken down because of the controversy over the name of the Washington Redskins. He was convinced that we had to take her down because she was an Indian. So for the first time I put something on Facebook about it, and I let everyone know that she was only taken down to be repaired and that Minnehaha was coming back to Elkins."
Although the Woods were confused at first with the public's reaction, they've since come to understand why so many residents expressed their anger with the statue's removal.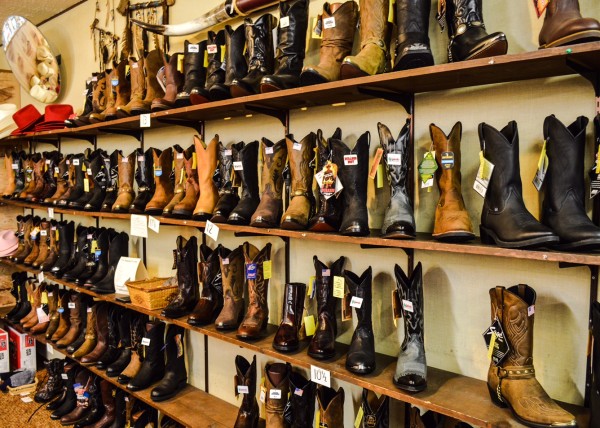 "She's old enough now that so many people who grew up here felt that they had something of a claim to her. They were really worried," Cay said. "A lot of people didn't realize she belonged to us and that she was here for the store.
"The Mayor's Office released a statement explaining that we owned her and that the city didn't and that we could do what we wanted with her," she continued. "But she was just down for a makeover, and there she is again."
And Minnehaha indeed has returned, in fact to the same perch she's occupied since initially being placed on this corner in 1983 in front of this legendary gift shop. For how long, though, is the question at this time.
Cay and her husband, Bob, have owned and operated Hiawatha's since the couple first opened the store in the Tygart Valley Mall in 1978 after Cay fell in love with the southwestern culture during a trip they took to Las Vegas seven years prior.
Bob owned a trucking company between 1971-78, and his primary contract called for him and his employees to haul stone from Elkins to construction crews building Interstate 79. As the highway grew longer and farther away, the demand for stone diminished in the Elkins area, the Woods counted on coal, and it was that industry that sent the Woods west and led to Cay's discovering her passion for the goods sold at Hiawatha's for the past 37 years.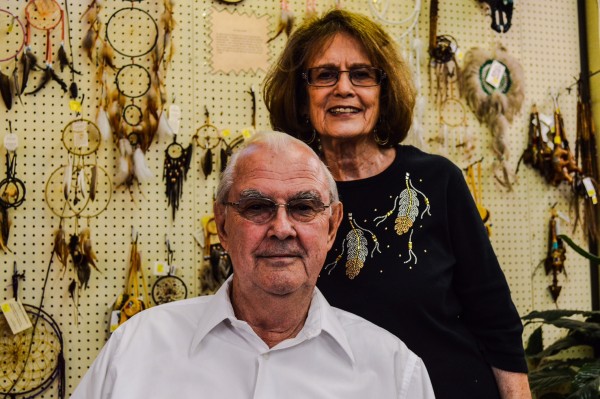 After two weeks in Sin City, the Woods returned to Elkins, Cay bought a new car, and she, her sister, and a family friend headed west once again.
"I knew I was very interested in that southwestern culture and that Native American history after the trip to Vegas, but when the girls went back, it was a joy of a lifetime," Cay recalled. "I just really enjoyed it then, and I still do. From that first trip I came home with enough merchandise to fill our first store with jewelry and some other artifacts, but after moving to a bigger space in the front of the mall a couple of years later, that's when we added the clothing and the boots."
But then the owner of Crown Furniture shuttered the business, and Bob noticed what he believed would be a prime location for Hiawatha's.
"We looked in the window from the outside, and we knew this building would make for a nice store," Cay said. "After we ended up buying this property, we actually moved everything overnight, so we didn't miss a day being open. We worked all night and opened the very next morning, and this has been where Hiawatha's has been since.
"But the corner was kind of blah when we first moved into this building, so we knew it needed something. And then just a few months after we moved in, Minnehaha was ready to go up," she continued. "We decided on Minnehaha rather than Hiawatha, and I honestly believe that she has attracted a lot more attention that Hiawatha would have. She was his legendary wife and had her own story, that's really pretty fascinating."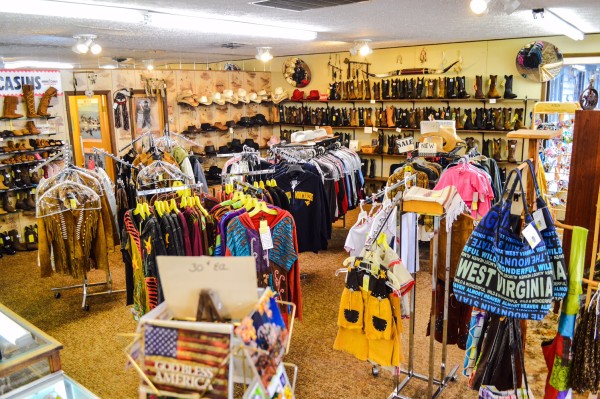 The shop still offers clothing, jewelry, boots, figurines, interior decorations, dolls, selfie sticks, postcards, dreamcatchers, handbags, WVU apparel, cowboy hats, and, of course, moccasins.
"It's worked out very well for us, and it's been fun for us, too, because of our interest in the culture of the Southwest," Bob reported. "There is a lot of Native American history in the Randolph County area, so I believe a lot of residents have been very interested to see, and buy what we have brought into the store to sell.
"Cay is from the Charleston area, but I'm from right here in Randolph County. I grew up in a town called Mingo, and I only met her because I got a job with Piedmont Airlines and moved into an apartment that was next to the house where she was growing up," he said. "We were in that trucking business for several years, and we had bought property in this area, and we were building a log home here. So this business really worked out for us and allowed us to remain here."
Hiawatha's is open Monday through Thursday from 9 a.m. – 5:30 p.m., Saturdays from 9 a.m. – 6 p.m., and on Sundays from 10 a.m. – 6 p.m. The only three days the specialty shop is not open are Thanksgiving, Christmas, and New Year's Day.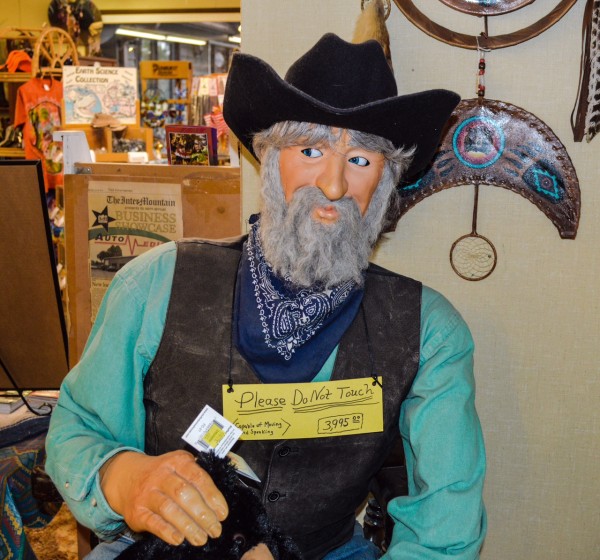 "We have a lot of customers who are local, but we also get a lot of visitors from out of town, too," Cay said. "We have been in business for so long now that a lot of our customers first came in as kids. A lot of them have moved away since, but they always come home. When they do, they seem to come in here again. They just had to come back.
"And a lot of people who visit us are making Elkins their destination so they can visit all of the attractions in this area," she continued. "The boys have always loved the slingshots, the Indian vests with all the bead work, and the girls have always stared at the dolls and the silver jewelry. Every single person has something here that's always been their favorite part of Hiawatha's."
But now the Woods wish to retire. The couple splits their time between their apartment in Elkins and their house in Charleston – one week here, the next week there – but they both believe the time has arrived for new ownership.
"At our age, it's been time for a long time," Bob admitted. "We really should have thought about it a few years back, but we didn't because of how much we still enjoy the business. We would like to do a few more things with our lives, and now seems as good a time as ever.
"Wherever we decide to go, we'll drive there like was always have," he continued. "We're not sure where we'll be heading, but we know that's what we want to. Let's just say that we are closer to 80 years old than we are to 75."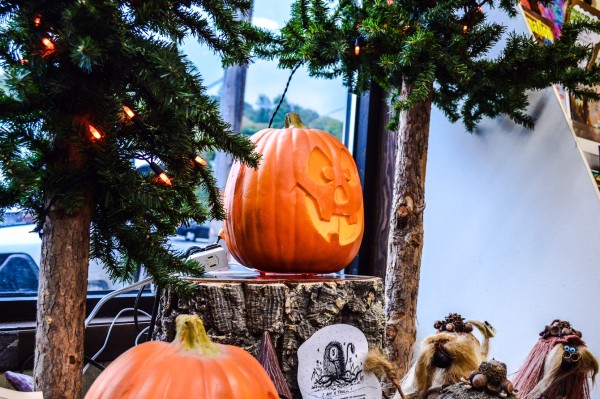 Cay sees potential, wishes she was younger, and is puzzled why an entrepreneur has not leaped at the chance to continue this Elkins tradition.
"I can think of a thousand different things a new owner could do here if they only had some vision," she said. "When we were young, we had a vision of what this has become, and we accomplished it. If I were younger, I would leave this store the way it is, but I would use the apartment area for some kind of little restaurant.
"They could have tables, a small kitchen, and they could serve menu items that were very unique to this area. I'm positive a lot of our visitors would get a bite to eat while they were here just because of how convenient it would be for them," she continued. "But a lot of people just don't seem willing to go out on that limb these days.
"When people ask us if we are going to sell and we tell them we would like to, they almost cry because of how much this store has been a part of their life," Cay said. "They know they may never find another store like this one, and most of the 'Mom-n'-Pop' stores are gone these days."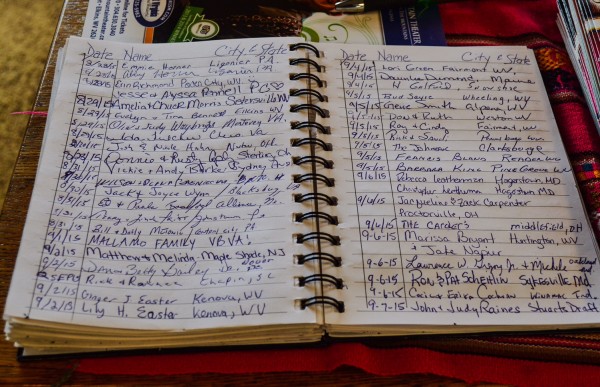 Bob explained that the property and the business can be sold as a package or separately, but if someone purchases the property, he and his wife cannot guarantee Minnehaha will stay in place.
"We would sell these properties any way that it would work for a new owner. It's just time; it really is," he said. "But if someone only wants the property and not the business, what to do with Minnehaha is a decision we would have to make. I know if we decided to take her down and move her away, we would have to leave town as soon as she does; that's for sure.
"But if I were the buyer I would want Minnehaha included in the deal because she's probably attracted more attention to this intersection than anything around here. Even the Big Mac."
(Photos by Steve Novotney)