This story was originally produced for West Virginia Public Broadcasting.
This year at Old-Time, Vocal, and American Vernacular Dance Week at the Augusta Heritage Center of Davis & Elkins College, countless individuals have came to learn everything from African-American String Band Traditions and Square Dance Calling to Balkan Harmony Singing and 19th Century Banjo Music.  For one young West Virginian, Augusta has opened up the world of fiddle music.
Click to listen to this story.
Fourteen-year-old Kiara Williams of Rock Cave, West Virginia began playing two years ago in her school's orchestra program, but she wanted to learn more. So she started experimenting.
"I started looking up sheet music and trying to figure out all these fiddle tunes," Kiara said, "and then I just started doing new bowing techniques and new things on my fiddle."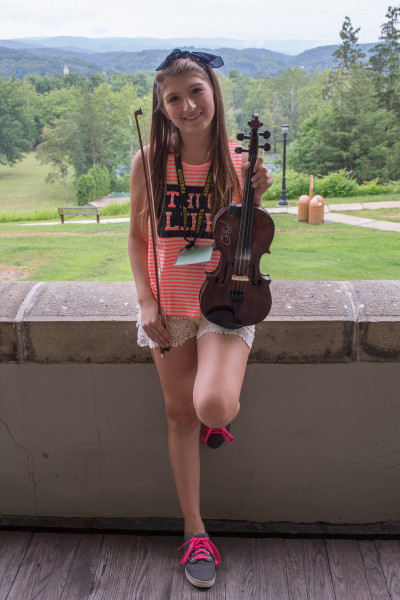 She first came to Augusta for Cajun Week last summer at the urging of instrument repairman and musician Bob Smakula.
This year she came back to Cajun Week and even started to pick up the accordion. She also took classes during Bluegrass and Old Time Week – and she says it's made a big difference in her playing. Kiara says she especially loves playing fiddle for Square Dances.
"Just watching people smile whenever they're dancing while you're playing is really nice because you know they're enjoying it."
For Kiara being a West Virginia fiddler is something special.
"I love West Virginia and how West Virginia people play their instruments and being in West Virginia and playing fiddle is just really cool."