My friends and I in AmeriCorps serve West Virginia in so many ways. So I thought I would let you explore some of the interesting things about, "Who We Are, What We Do, and Who We Serve" in the Appalachian Forest Heritage Area  in collaboration with AmeriCorps.
The Appalachian Forest Heritage Area is a regional initiative to promote, conserve, and educate the public about our Appalachian heritage sites and forests within West Virginia and western Maryland. We work on a variety of community projects relating to heritage development, conservation, historic preservation, and economic revitalization. AFHA AmeriCorps is funded in part by Volunteer West Virginia and the Corporation for National and Community Service.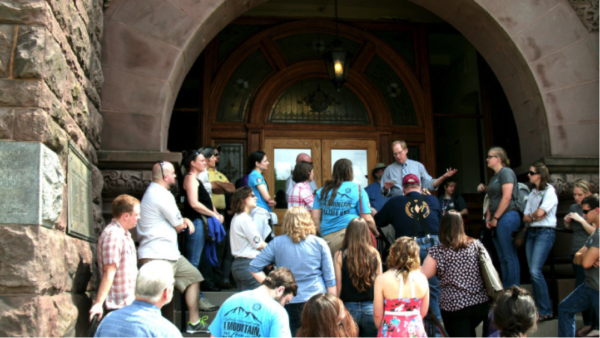 Each year our regional AFHA AmeriCorps service members have a meeting with some of the community members we serve. AFHA held its Annual Stakeholders Meeting in May in the small town of Philippi, in Barbour County, West Virginia. Philippi is a town of about 2,900 people with a rich history that centers around the Civil War and its role as the location of the first land battle of the war.
During these meetings we share information about the projects we are working on within the communities we serve. We give community leaders information about what we really achieve while spending our year with them as service members. Alison Thornton, Program Associate with AFHA AmeriCorps, reported at the meeting that "Our 38 AFHA AmeriCorps members have provided over all 39,775.75 hours of service this term, and have improved or treated 643.60 acres of public land within our counties." In addition, AFHA AmeriCorps members have leveraged "a total of 920 community volunteers in 16 counties who have put in 10,076 volunteer hours so far this year, with 44,683 beneficiaries of their work." The impact of those 10,076 hours is huge. We contributed more than $150,000.00 in man-hours to our state's economy for the first half of the fiscal year.
Many of the positions that AFHA AmeriCorps members fill are tough physical jobs in very isolated locations which make their positions hard to fill. Many of my fellow members work with the Forest Service and other conservation agencies repairing trails, clearing invasive species and fighting forest fires. Some members spend time working with the arts, in tourism, and at historic locations doing preservation and giving tours. Some serve in in rural communities doing economic revitalization. Some serve mostly at construction and demolition sites where historic buildings are being redeveloped and updated. Yet, we all serve with this motto in mind: "Getting Things Done."
So when you get us all together it is a wonderful educational opportunity not only for the public but for us members also. We see and hear about other members' projects and the impact they are making for the better. We hear from speakers who, like us, are trying to make a difference in their area of expertise. We are also encouraged to explore the communities where we serve to get a deeper understanding of the area's history and needs.
This by far is the most important part of our meetings from a member standpoint. We talk with local leaders about the successes and failures of our program. We see firsthand what our service is doing in these communities. It is a time to see that our efforts are real and tangible. So with cooperation from the city of Philippi we were able to tour the town, see historical locations and see some of the physical evidence of our work. It gives all of us a chance to understand the area where we serve better and leaves each of us with a feeling of pride as we share in each other's positive impact.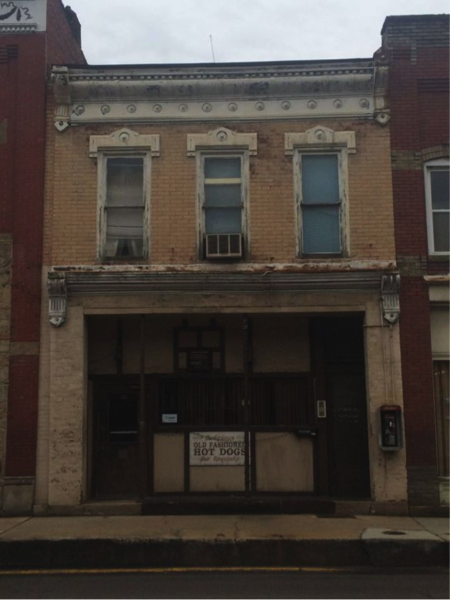 Alex Thomas serves as AFHA AmeriCorps project manager for Woodlands Development Group  (a local non-profit housing developer) on this main street building in Philippi. The building was almost a total loss for redevelopment in a town of this size, but with many community groups working together and funding coming from grants the future looks brighter for this building. When the building is finished it will have retail space and two modern upstairs apartments for people who work in the downtown area. It is this collaboration between local officials and agencies, AmeriCorps Service members, the State and Federal Government that we begin to see what is possible. Every AmeriCorps wants to be part of the solution for our communities' problems.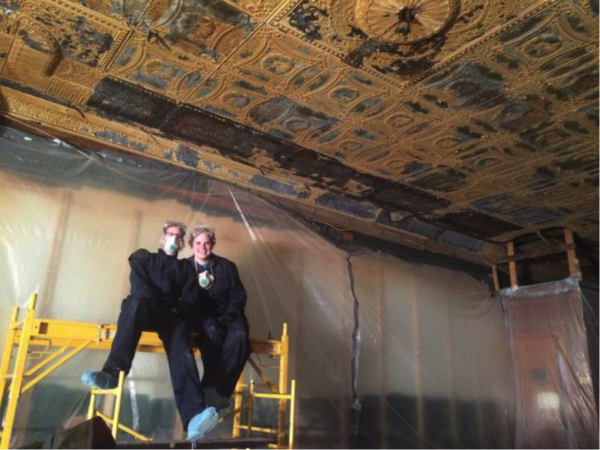 In the end AFHA and AmeriCorps is all about the people and communities we serve. In Philippi we were lucky to have the opportunity to see one of the largest covered bridges still in use in the United States. Seeing its long historic arches puts all of our efforts into perspective about what is important about this region and its history. We serve as AFHA AmeriCorps to remind the world that we have a proud and long history that deserves to be protected, preserved, developed and cherished. As AmeriCorps members we make a difference in little communities just like this one, so that the future of this region will be brighter, our communities will be stronger, and our history will never be lost.
It is my pleasure to serve the people as a AFHA AmeriCorps member in rural West Virginia. For more information about AmeriCorps and where they serve follow this link, National Service AmeriCorps, or visit this site, and think about joining us.
JoLynn Powers is an AFHA AmeriCorps member serving with Elkins Main Street. She writes a regular blog about what is great about West Virginia, called West Virginia Mountain Mama.