In 1949, The Orioles asked "What are you doing New Year's Eve?". Today, on the cusp of 2016, Elkinite would like to ask the same question and share some options for the evening. Here's what you can do on New Year's Eve in Randolph County.
---
Juanita Fireball & The Continental Drifters at The Brazenhead Inn || Mingo, WV
When I learned about The Brazenhead Inn thanks to the Mountain Music Trail, I realized it was the coolest place I had never heard of. Head up the valley to enjoy an evening at a traditional Irish Inn with good food and music by one of the best old-time string bands in the region. Their New Year's Eve Celebration is sure to be a good time.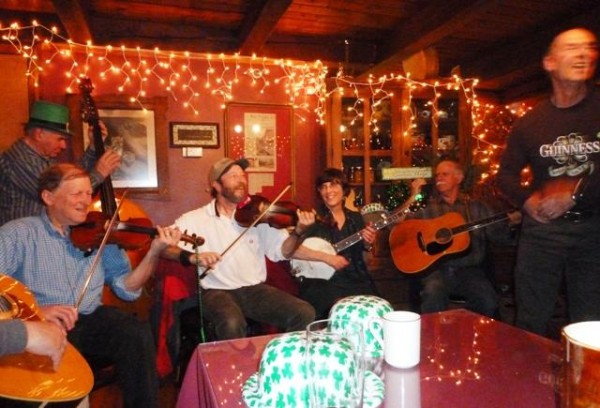 Juanita Fireball & The Continental Drifters have been playing together for over twenty-five years and learned first hand from great West Virginia fiddlers such as Melvin Wine and Wilson Douglas. The music starts at 8 p.m. The Brazenhead Inn is located on Route 219 34 miles south of Elkins.
---
NYE at EL GRAN SABOR with YOUNG FUNK SUNG || Elkins, WV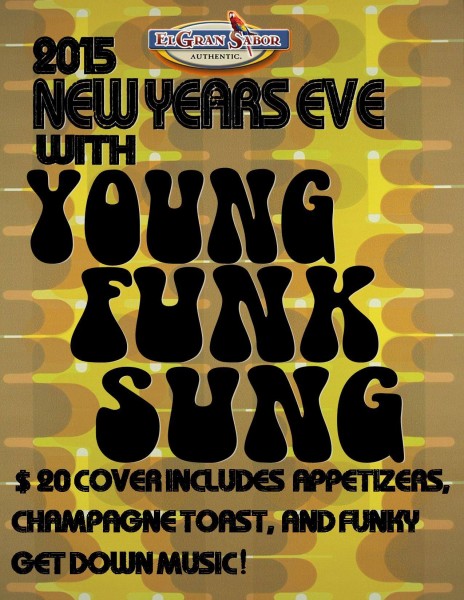 El Gran Sabor opens at 9:30 p.m. on New Year's Eve for the party to end all parties. There's a $20 cover that includes appetizers, a champagne toast, and music by Young Funk Sung. The band promises to bring "all the funky get down tunes you can handle".
---
Franks Family Music Show at the American Legion Ballroom || Elkins, WV
The Franks Family is immensely talented. After a great run of Christmas shows, they're back in action with a show on New Year's Eve from 7 p.m. to 9 p.m at the American Legion Ballroom. Tickets are $20 and can be bought at the door or can be reserved by calling 304-704-5708.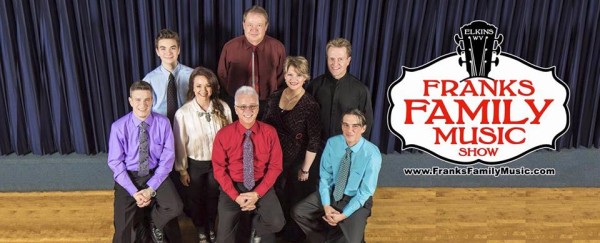 ---
New Year's Eve at Vintage Restaurant and Wine Bar || Elkins, WV
Vintage promises a billion champagne bubbles and that's certainly something not to be missed, but first they're serving the best dinner in town. Their New Year's Eve Dinner will be served in two slots: 5 p.m. to 6:30 p.m. and 6:30 p.m to 8 p.m. For $30, patrons will get a four course meal, that includes appetizers, soup or salad, and a choice of entree (including a vegetarian option). Reservations can be made at 304-636-0808.
Around 8:00 p.m., the party gets started. The $75 ticket covers an evening of enjoyment. Their "Black & Gold Masquerade Ball" begins with dinner: appetizers, salads, breads, and a buffet dinner of beef tenderloin, seafood, and pasta. A Champagne and Strawberry Social follows dinner with music by Rachel Franks, Jeff Broschart, and Joey Hochgesang. Then after an evening of partying and waiting for the ball to drop, enjoy a midnight artisan breakfast pizza buffet. Reservations are required and can be made at 304-636-0808 or in person at Vintage at 25 Randolph Avenue in Elkins.
---
In the event you don't make it out on New Year's Eve or want some more fun check out the First Saturday Square Dance of the Year in Helevita on January 2nd. The dance starts at 7 p.m. at the Star Band Hall in Helvetia (about 30 minutes from Mill Creek on Helvetia-Adolph Road). Admission is $5 for adults and children under 12 are $2.
So what are you doing on New Year's Eve? Tell us about your New Year's plans by sending an email to elkinite@elkinite.com. Feel free to also tell us about events we don't know about, and we'll gladly add them to our list.