Madeline Hope Ross, a Ripley native and graduate of Marshall University, is serving as Maid Silvia LXXIX of the 79th Mountain State Forest Festival. Here is your chance to get to know this year's Maid Silvia.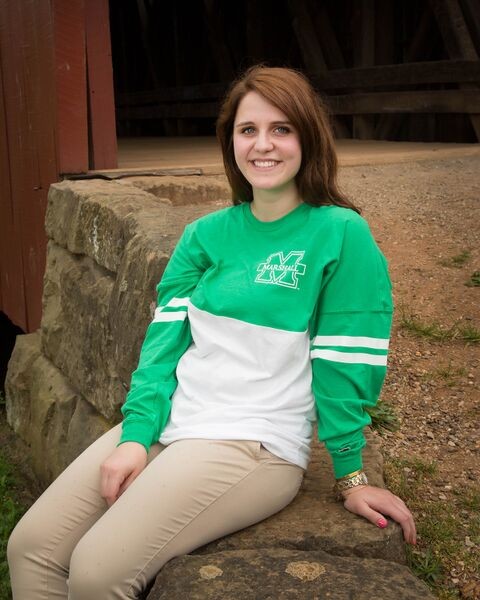 What are you most looking forward to during festival?
I am looking forward to everyone seeing my dress at coronation.
You have a lot of family in Randolph County. Do you have any favorite things about Elkins and the County?
I have always liked visiting my family in Randolph County because of how beautiful the area gets when the leaves start to change. Seeing all the colorful mountaintops was always my favorite part about the car ride from Ripley to Elkins.
You've been to the festival before. Do you have any favorite memories?
My favorite memory from the festival has always been the craft show. I love the homemade candy and crafts and seeing the people that made them.
Any stories your family has told you about the festival?
I have heard horror stories about the weather from festival some years from my family members. I think they are trying to prepare me for the "just in case" situations of coronation day.
Is there anything you are nervous about?
I am nervous about coronation and falling down the hill of course. I am a clumsy person and I will have to focus on walking slowly.
What does this experience mean to you? Why did you want to serve as Maid Silvia?
This experience is exciting and gives me a chance to tour the town of Elkins. I think that it is also an amazing opportunity for me to grow closer to the side of my family that resides in Elkins. My grandparents, uncles, aunts, and cousins are all super excited for me to get to experience this festival that they cherish every year.
Do you like carnival food? Corn Dogs or Funnel Cake?
Yes and yes. I love all carnival foods. Pretty much any food that is deep fried is okay in my book.
Will you ride any rides at the carnival?
I love carnival rides. So yes, if given the opportunity, I will be riding the carnival rides as many times as I can and as often as I can.
Favorite sport and team?
My favorite sport is basketball, my favorite team is the Elkins Tigers Football Team.
Favorite type of music?
I really like country music, like Florida Georgia Line, but I also love Beyonce, the queen.
Favorite part of West Virginia?
My favorite part of living in West Virginia as a whole is the opportunity for outdoor experiences, like kayaking and hiking. My favorite city in West Virginia is Huntington where I attended college at Marshall University. There is always something to do or see there and I enjoyed my years spent there.
Favorite season?
My favorite season is definitely summer because I get to spend a lot of time with my family and friends going new places and seeing new things.
Favorite movie and tv shows?
My favorite TV show is How I Met Your Mother, which I am currently watchingt on Netflix right now. My favorite movie is The Dark Knight or Pitch Perfect.
Madeline will be crowned as Queen Silvia of the 79th Mountain State Forest Festival during the Coronation at 2:00 p.m. October 2. For more information, please visit the Mountain State Forest Festival website at www.forestfestival.com or call 304-636-1824.