In Elkins, an energy efficient house can be a hard thing to find. With an aging housing stock and cold winters, more than a few Elkins residents are familiar with the unpleasant reality of sky high utility bills in the winter, along with that chilly draft blowing through the house. But what is a city dweller to do?
Well, for one thing, you could consider a new home in the Highland Meadows neighborhood. Located off Wilson Lane, Highland Meadows is a growing neighborhood of new homes and happy, cozy homeowners. All of the dozen or so homes in the neighborhood have been built with energy-efficiency in mind, and it is working. In the winter of 2014, when the Consumer Advocate Division of the WV Public Service Commission published its report on average energy bills for that winter, Elkins home owners were paying a little over $200/month. That same winter in Highland Meadows, homeowners were paying an average of $100/month.
Tucked in behind the Tygart Valley Mall, Highland Meadows offers yet another way to be more energy efficient: driving less. There is pedestrian access to the rear of the mall right from the neighborhood, which makes for easy access to a quart of milk, a routine prescription pickup, or even a Saturday matinee. In fact, for one Highland Meadows homeowner, that's her commute, as she walks to her job at a Tygart Valley Mall business. Along the way, she'll pass the large front porches on each of the houses, where, from time to time, she'll find a neighbor sitting and enjoying the view.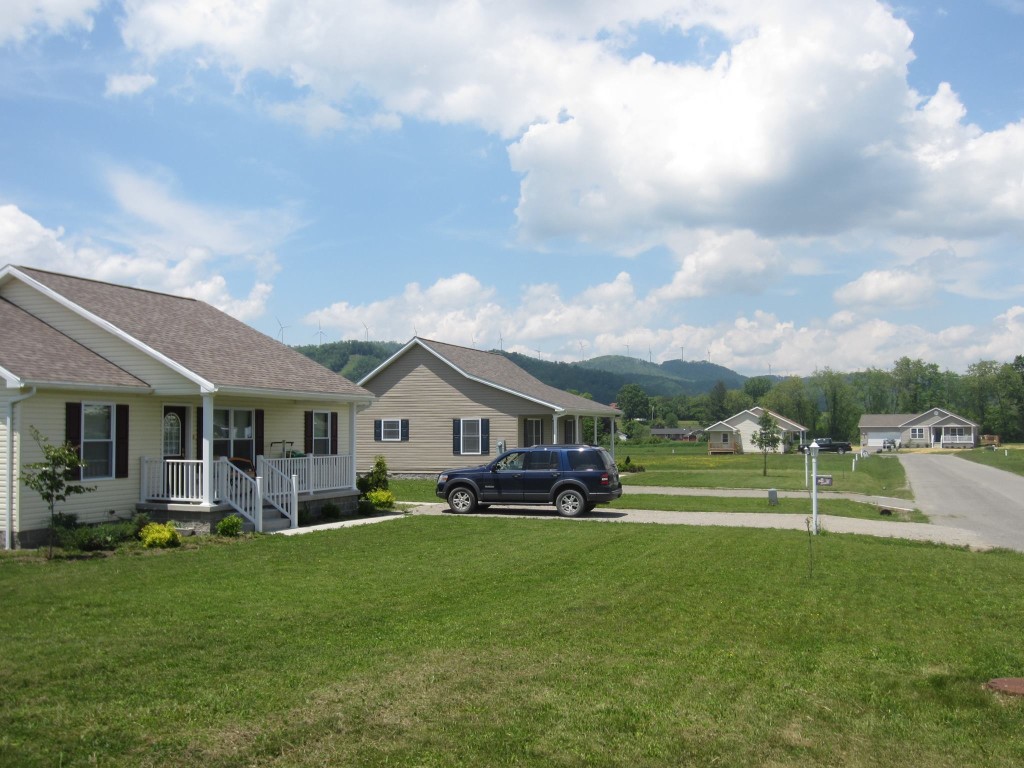 The walking trail in the neighborhood is an interesting story in itself. In the spring of 2014, students from the Davis and Elkins College Center for Sustainability Studies, under the direction of Center Director Professor Russ McClain, received a grant to build an Edible Park in Elkins. When the location they originally chose for the project became unavailable, Highland Meadows moved up on the list, reaping the benefits of the expertise and enthusiasm of the students, and a previously open grassy area became an edibly-landscaped walking trail. In exchange for a bit of weeding, Highland Meadows homeowners now can venture over to the walking trail to pick fresh herbs for their dinner's recipe, or strawberries for a summer treat. And as the fruit trees grow, these same residents will be able to enjoy that, too, fresh, and free.
The last portion of the walking trail will be built this fall by Matt Davis of Terra Flora Landscaping. This will complete the neighborhood's Green Way which reaches from a constructed wetland, designed to creatively and sustainably process stormwater in the neighborhood, through the edible park, and on to the final portion, designed to include springtime blossoms and summer butterfly gardens.
And all this somehow relates back to the energy efficiency model for the neighborhood, which in turn relates to a general theme of sustainability and helping out nature just a bit. Use less energy, walk when you can, support nature through carefully designed plantings, and, enjoy. That's the Highland Meadows way.