The holiday season arrived in downtown Elkins Nov. 6 with the first departure of the Polar Express excursion train from the Elkins Depot to the North Pole.
A team of volunteers led by the Elkins Main Street Design Committee worked together to transform downtown Elkins for the occasion.
"The cooperation among the many participating businesses, organizations and individuals has been outstanding, and we couldn't be more pleased with the outcome," said Executive Director Karen Carper.
In order to create a delightful holiday atmosphere for the many visitors coming to ride this enchanted train, work had to begin early behind the scenes.
While taking down remaining scarecrows from this fall's Scarecrow Festival, the Design Committee was also preparing for downtown Christmas decorating. This led committee members, including Katy McClane, on some interesting decorating adventures.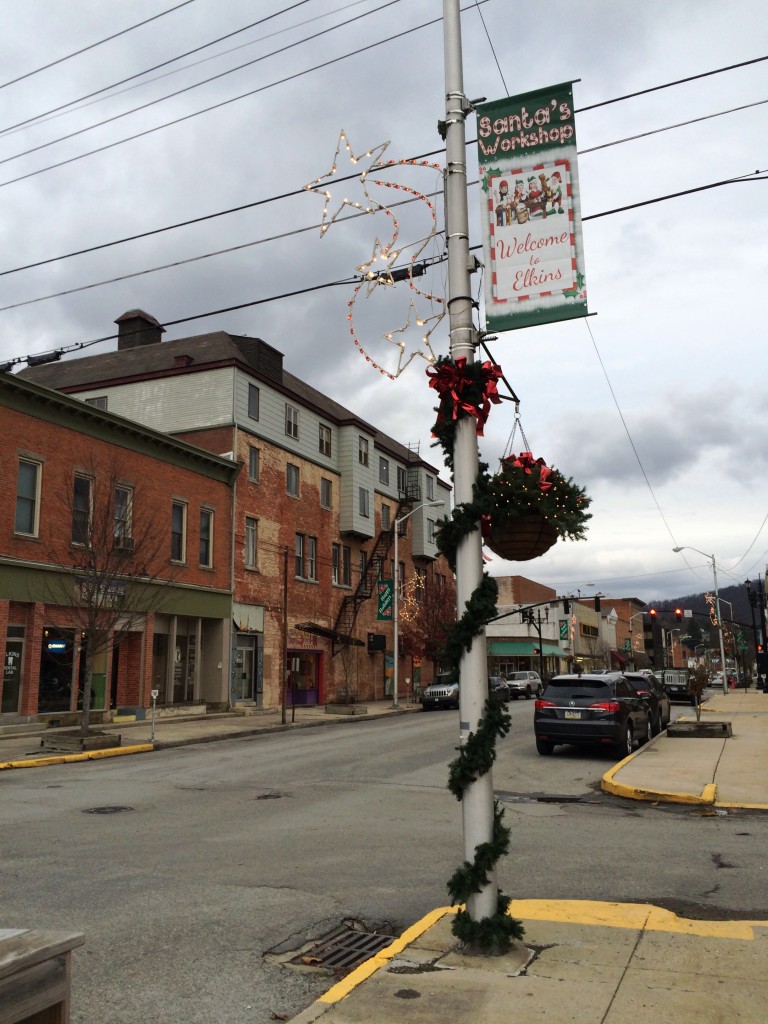 "I felt like a decorator detective finding stashes of old Christmas decorations in the Darden House, the city's sanitation garage and the Street Department garage," said McClane. "Everyone was very helpful and made this endeavor a pleasant experience in creating a pretty downtown for Christmas."
McClane made an inventory of the collected decorations and has coordinated placement throughout downtown. She also helped repair the city's pole-mounted holiday lights, replacing burned-out bulbs on many of the fixtures.
According to McClane, there is more to come."Katy has been the driving force of the downtown decorating effort this year," said Carper. "We are really lucky to have her and appreciate so much the generous contribution of her time and creative energy."
Other volunteers have pitched in on the effort to make downtown beautiful. Members of the First United Methodist church and the community donated greenery for downtown Christmas baskets, which were designed and created by staff of JoJo's Floral and Bridal and Tammy's Floral. Design Committee member Bobbie Trimboli was instrumental in collecting the greenery. Lights were added to the hanging baskets, thanks in part to a donation from the Old Brick Playhouse.
The Emma Scott Garden Club maintains the garden at Main Street's Davis Avenue gateway welcome sign. With help from Design Committee member David Cutlip, garden club members BJ McKenzie, president; Pat Mayes, and Judy Guye Swanson draped the sign with holiday garland.
City of Elkins street crews took advantage of favorable weather to hang lights and holiday banners throughout downtown, and pitched in to hang garlands and help McClane locate items in storage at city garages. "The city workers were so helpful and very pleasant to work with," she said.
Other participating businesses and organizations include Davis Trust Company, the Delmonte Market, Durbin & Greenbrier Valley Railroad, the Elkins Mountain School, Mountain Arts District, and the Randolph Technical Center, which helped repair some of the city's lights.
More than 15,000 people will ride the Polar Express this holiday season. "It is wonderful to have downtown dressed up to greet our Polar Express guests," said Carper. "Elkins Main Street is sincerely grateful to everyone who contributed."
For more information about Elkins Main Street or to volunteer for downtown events and activities, visit www.Facebook.com/ElkinsMainStreet, call the Main Street office at 304-637-4803 or email info@elkinsmainstreet.org.