For many generations, folk tales, riddles, and stories have stemmed from careers and experiences of "workin' on the railroad". This is mainly due to the prevalent role railroads played in West Virginia's economy as they hauled the mountain state's rich coal deposits for more than a century. Oftentimes, it's debated that the steel highway of the railroad industry connects our state more effectively than that of today's modern highway system.
Arguably, the state's rail history is as significant in reputation as coal mining, and it has accounted for tens of thousands of jobs since rails were first laid in the late 19th century. Today, railroads still possess a nostalgic appeal, a perception that introduces fantasy and appeal to young children. While the commercial rail industry has evolved into a technology-driven transportation sector, there's a significant piece of history being preserved in the valleys of the Appalachians that not only tells the story of railroading, but illustrates it through special rail excursions, events and other attractions that appeal to travelers of all ages.
The Durbin & Greenbrier Valley Railroad operates tourist trains departing the historic depots of Elkins, Cass, and Durbin on sections of railroad that once hauled timber, coal, and other valuable commodities of the early 20th century. Today, that history is preserved and explained through narrative journeys into some of the state's most remote mountain terrain.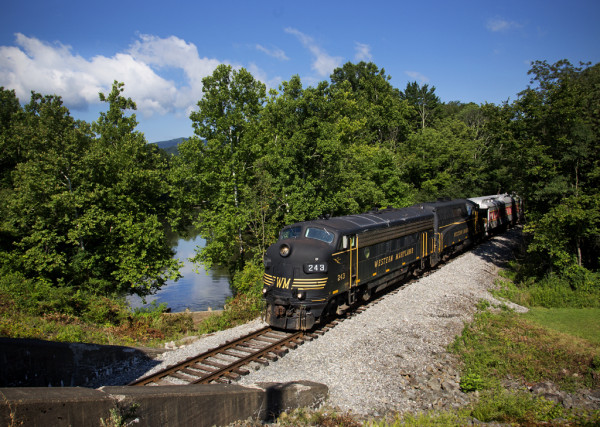 Mountain Rail Adventures
From Elkins, visitors can ascend the Shavers Fork of the Cheat River to the High Falls of Cheat, Cheat Bridge, and on to the historic location of the old logging town of Spruce on a 128-mile round-trip train ride that includes an on-train lunch and narration. Railroads often traversed some of the most remote areas of the country, finding the most optimal passage to build their right-of-ways that in turn, allowed them to transport heavy tonnage freight trains with as much ease as possible. Oftentimes, these unique routes provided railroaders with astonishing views of local scenery, and the route along the Cheat River is no exception.
The 46-mile New Tygart Flyer excursion also departs from Elkins each Thursday through Sunday during the summer season. This ride follows the Shavers Fork of the Cheat River, again to the High Falls of Cheat, the location of an 18' high and 150' wide waterfall that offers great access and appeal to photographers. This four-hour round trip showcases the importance of rail preservation while giving passengers a little taste of wild and wonderful West Virginia's scenery.
In addition to the standard schedule of the Elkins-based New Tygart Flyer and Cheat Mountain Salamander, the railroad has constantly added new event excursions to its growing roster of Mountain Rail Adventures.
The widely successful THE POLAR EXPRESS train rides draws in crowds from all across the state and the Mid-Atlantic region. Nearly 15,000 people visit the small mountain town of Elkins in a six-week period, from early November to mid-December, to ride this train. Murder mystery dinner trains included four-course meals with a cast of actors, and special evening event trains showcase food and wine.
Today, it's not only about re-creating the exciting past of railroads; it's about establishing a fun family-driven atmosphere that incorporates trains and history. Rails and equipment that were built for the transport of coal and timber are now earning their keep by putting smiles and ever-lasting memories into the families of each visitor. For more information and full scheduling, take a look at www.mountainrail.com.
(Photos from Mountain Rail Adventures)