This story was created in partnership with the Augusta Heritage Center and West Virginia Public Broadcasting.
At Blues & Swing Week at the Augusta Heritage Center of Davis & Elkins College in the campus is a soundscape resonating with big jams of upbeat swing music interspersed with soulful Delta Blues. This week a brother and a sister have come to Augusta to further their talent and share a story.
"When I was five years old, entering kindergarten, I had orthopedic issues with my fingers, my fingers where very weak, so what the doctor did is recommend that I start playing guitar," said seventeen-year-old Cole Layman from Williamsburg, Virginia. After performing the exercises prescribed by his doctor for two years Cole decided that the guitar was his instrument.
As Cole began to play guitar more his younger sister, Logan, wanted to spend more time with him so she decided to learn to play guitar, too. But she discovered guitar wasn't her instrument.
"I hated using a pick," Logan said, "so when I found out that the bass guitar doesn't need to use a pick I started playing it and fell in love with it."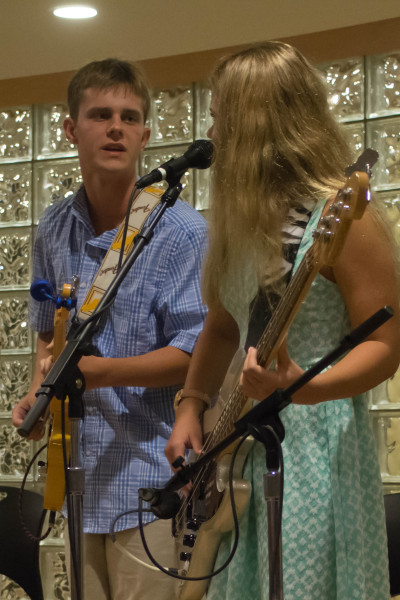 Together they play as the duo, In Layman Terms, and are sometimes joined by their mother on drums. However, this week isn't as much about performing. Cole and Logan are at the Augusta Heritage Center to learn both in the classroom and in jams. They each take four classes a day and jam into the evenings.
Cole finds his first class in swing guitar a rewarding challenge. "I'm learning some new chords that I don't really use, at all, so it's a little difficult, but I like difficult classes that challenge me," he says. He's also taking classes in finger picking and slide guitar. Logan really enjoys the jamming. She says, "I love the jams, watching all the other people come out of their comfort zone or inspire people to conquer their fears of going out in front of the audience and playing."