As Elkinite often reports, there is always something exciting to see and do in Randolph County and the holidays are no exception. We've compiled a list of fun and festive holiday events to help you celebrate in the mountains this season.
Holiday Light Displays
Whoville (December 1-throughout the season)
Mill Creek – Each year, five to six families participate in transforming their neighborhood into Whoville. The families encourage those from near and far to come visit and enjoy their lights display. To find Whoville, turn onto Back Road, adjacent to the fire department, and follow the road until the lights display appears.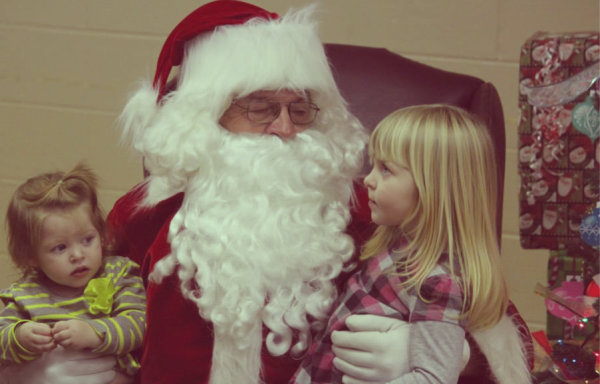 Pictures with Santa/Dining with Santa
Visits with Santa (December 2)
Elkins – Following the Annual Christmas Parade, children will get the opportunity to visit with Santa and Mrs. Claus at the Elkins YMCA. The parade will begin at 6:00 PM and the visits with Santa will immediately follow.
Breakfast with Santa (December 5)
Applebee's – Come enjoy pancakes, sausage and drinks with Santa while also helping to raise money for the 2016 Elkins High School Senior Project Safe Graduation Party. Tickets are available thru any EHS Senior or can be purchased at the door. Bring your cameras and get pictures with Santa too! Tickets are $5/person.
Performance Chevrolet (December 11)
Elkins – Enjoy Cookies & Hot Chocolate while you tell Santa what you want for Christmas this year. Free and open to the public.
Holiday Shows
AMT Christmas Spectacular (December 2-December 19)
Elkins – Enjoy a magical night of holiday memories, Christmas music and hilarious Christmas comedy at the American Mountain Theatre Christmas Spectacular show.
Polar Express (December 2-December 20)
Elkins – The Durbin & Greenbrier Valley Railroad has partnered with Rail Events Inc. (through Warner Brothers Consumer Products, Inc.) to bring the officially licensed train ride event, Polar Express, to Elkins once again this holiday season!
Gandy Dancer Mountain Memories Christmas Show (December 4-December 19)
Elkins – This amazing performance featuring all of your Christmas favorites from your childhood to today will bring back memories and create new ones too. Served with a holiday dinner fare, this yearly show is a must see for all ages.
Franks Family Christmas Show (December 4-19)
Elkins – These six shows will showcase a variety of traditional Christmas favorites and is guaranteed to get you and yours into the holiday spirit.
D&E College Concert Choir Presents Lessons & Carols (December 6)
Elkins – Davis & Elkins College Concert Choir and Davis Memorial Presbyterian Church will present Lessons and Carols at 7 p.m. December 6 at Davis Memorial Presbyterian Church. This year's theme, "Images of Adoration" will be presented in musical selections and a lesson of scripture. The Rev. Dr. Peter Vial and the Rev. Kevin Starcher will open the program with a Christmas message. Davis & Elkins Artist-in-Residence Jack Gibbons will perform the prelude and postlude. A special vocal arrangement written by Gibbons will premier during the collection of the good will offering to benefit area residents in need. The choir is under the direction of Liz MacVean and accompanied by Donna Baroudi Huffman. A reception will follow in the DMPC Fellowship Hall. The event is free and open to the public.
Come Home for Christmas with John Angotti (December 19)
Elkins – John Angotti will be offering a variety of Christmas classics and new originals focused on the holiday season.
Christmas Parades
Elkins Christmas Parade (December 2)
Elkins – The Annual Christmas Parade and Visits with Santa will take place on December 2, 2015. The parade will begin at 6:00 PM and the visits with Santa will immediately follow at the Elkins YMCA.
Tygarts Valley Christmas Parade (December 6)
Mill Creek – The Annual Christmas Parade is scheduled for Sunday, December 6th in Mill Creek. All bands, churches, organizations, businesses, and clubs are welcome to join in.
Bob's Christmas Trees (December 1 – throughout the holiday season)
Beverly – Monday-Friday, 12PM-9PM, Saturday, 10AM-9PM, Sunday 1PM-6PM
Bring your family and start a great tradition of picking out your fresh-cut, local Christmas trees and wreaths.
Chenoweth Christmas Tree Farm (December 1 – throughout the holiday season)
Elkins – Looking for that perfect Christmas tree? Bring a saw and cut your own or choose one and they'll cut it for you. Call 304-636-6677 or 304-642-1891 to schedule a time for us to meet you. Prices for White Pines are $20 and the Fraser Firs are $25, any size!
Lonnie's Christmas Trees (December 1 – throughout the holiday season)
Elkins –Located on Country Club Road in Elkins, and open in the late afternoon and evenings.
Special Holiday Events
Santa's Workshop (December 2-December 20)
Elkins – Fun activities for children of all ages in downtown Elkins.
Holiday Open House (December 4-5)
Elkins – Downtown Elkins merchants invite you to the annual Holiday Open House December 4-5. Plus, enter a drawing for $200 in gift certificates with every purchase at 22 participating businesses.
12th Annual Holiday Artists Market (December 4-5)
The Randolph County Community Arts Center is filled with pottery, paintings, baskets, wooden bowls, jewelry, fiber arts, wood carvings, and homemade holiday oranments crafted by our talented local artists selling unique art work.
Beverly Old Fashioned Christmas (December 5)
Beverly – Enjoy tree lighting, Christmas music, food and fun for the entire family.
2nd Annual Winter Gala (December 11)
Elkins – This 21 & over adult semi-formal/formal dance is hosted by the GFWC Junior Woman's Club of Elkins. This year's event features the Santa Cruz Band from Charleston, heavy hors d'oeuvres, 50/50 drawings, a cash bar, and more.