Making art and making a living as an artist are two different ventures. By combining the two, Davis & Elkins students are gaining some business experience and earning extra income.
Arts Ink, a student-run arts gallery, bloomed out of junior Nicola Merriman's Arts Advocacy class project and is set to officially open in Myles Center for the Arts on Monday, January 4. Although the notion for the business had been discussed in the Art Department for a number of years, it took Merriman's fortitude and support from administration to make it a reality.
"My brain didn't stop," Merriman says of the long hours she put in for three to four weeks making preparations and writing a business plan she was required to submit to D&E President G.T. 'Buck' Smith. "'Buck' was really excited and has been a huge support. I was pretty emotional when we got the store because it's so nice to see something you work so hard on come to life."
Once the project was approved, members of Arts Ink and the Art Club got to work under the guidance of assistant professors of art Michael Doig and Brett Kern. Although both are also working artists, they're not taking charge of the business. Instead, they're mentoring students in all aspects of entrepreneurship and sharing their experiences in the field.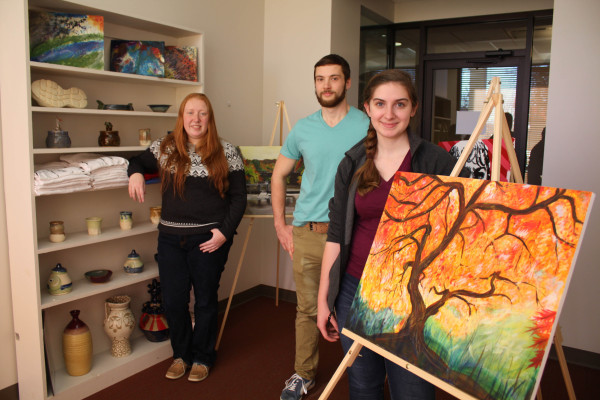 "You can go a lot of places and learn how to make art. We want our program to provide the answer to how you make a living by making art," Doig says. "This is just the first step."
Like any business, Arts Ink is led by a board of directors. Merriman of Wheeling, W.Va., serves as president, junior Duncan Lint of Silver Spring, Md., is vice president and junior Alex Miller of Hinton, W.Va., is secretary. Co-treasurers junior Matthew Zorn of West Union, W.Va., and sophomore Caitilyn O'Neal of Russiaville, Ind., sign off on reports and work with the College's business office.
The board officers, along with at-large members, will manage the shop and assist artists wishing to sell their work. Since there's no common formula for determining the asking price of an artwork, Doig explains that's another part of the business he and Kern hope to instill in students.
"We often have students who undervalue their work," Doig explains. "They need to consider the time, supplies, amount of work they put in and, of course, the quality. Then, sometimes it's still difficult to assign a value."
Those guidelines have been a help to senior Julia Tenney of Ellamore, W.Va., who is selling some of her photo prints at Arts Ink.
"It makes me feel a lot more confident with the price I put on my work," Tenney says. "I can explain why something costs a certain price."
Doig says he sees the gallery as a vehicle to motivate students, helping them learn their talents can generate income.
"In many ways it helps them understand that if you come to the studio and work, you can make money," he says.
In the spring semester, Doig will unveil a new painting, and works by Kern and adjunct professor of art Kevin "Woody" Woodcock will be introduced.
Any D&E student, faculty or alumni may submit work for review by the 11-member jury. Once the work is accepted, it goes on display in the gallery and the artist is paid when the piece is sold. For more information on submitting work, email artsink@dewv.edu.
To start off, Merriman plans to keep the gallery open from 9 a.m. to 5 p.m., Monday through Friday, during D&E's unique winter term, January 4-22. She says in the future she wants to mirror the business hours of The Stirrup Gallery to include a daily schedule and special events. In the spring semester, students can earn internship hours working at Arts Ink. Eventually, Merriman would like to expand to an online business as well.
Related to the Presbyterian Church (U.S.A.), Davis & Elkins College is located in Elkins, 2 hours east of Charleston, 3 hours south of Pittsburgh and 4 hours west of Washington, D.C. For more information, please visit the College website at www.dewv.edu or call 304-637-1243.